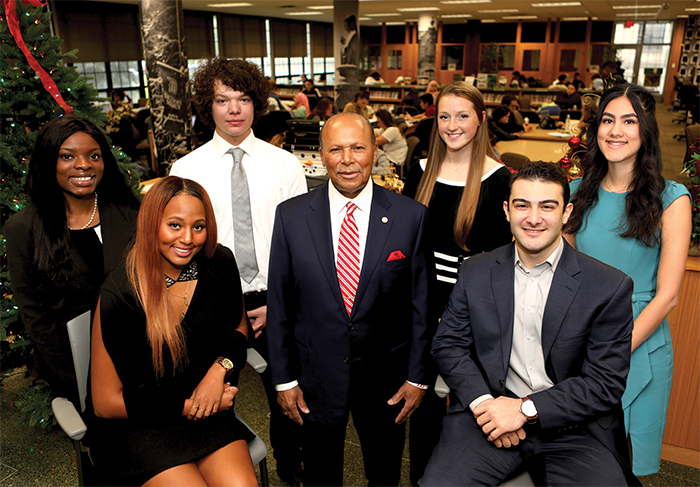 And behold, you will conceive in your womb and bear a son, and you shall name Him Jesus.
He will be great and will be called Son of the Most High … and His kingdom will have no end.
Luke 1:31-33
May you and your family
have the gift of faith, the blessing of hope
and the peace of His love
at Christmas and always.
Antoine M. Garibaldi, Ph.D.
President, University of Detroit Mercy
Cover Photo: President Antoine M. Garibaldi, Ph.D., with Detroit Mercy students in the recently renovated first floor of the McNichols Campus Library.
Pictured from left to right with major, hometown and high school:
Relicious Eboh — Senior, Biology; Farmington Hills, Mich; Farmington High School
Erica Heath — Senior, Business Administration; Detroit, Mich; Mercy High School
Phoenix Montie — Senior, Business Administration; Ecorse, Mich; Ecorse High School
University of Detroit Mercy President Antoine M. Garibaldi, Ph.D.
Ashley M. Mauser — Senior, Nursing; Shelby Township, Mich; Utica High School
Marco Simony — Senior, Pre-Dental/Biology; Shelby Township, Mich; De La Salle Collegiate High School
Paola V. Ramirez — Senior, 5-Year MBA; Novi, Mich; Novi High School