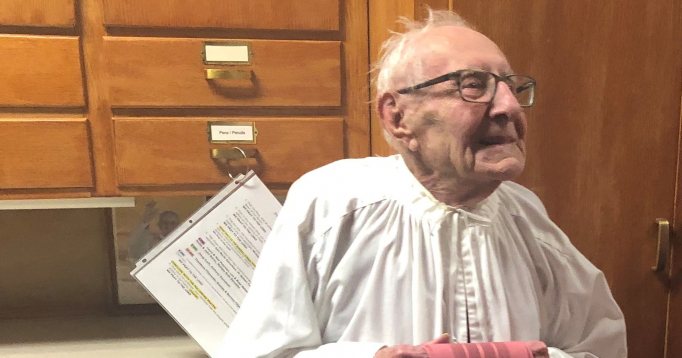 Lawrence Girard '58 is a man of faith.
As a deacon at Dearborn Heights' St. Sebastian Church, he serves eight masses a week. Not bad for a man who turned 100 years old in November. This remarkable man is the subject of an article in the National Catholic Register this week.
The article — which can be read in its entirety on the National Catholic Register website — is filled with Girard's words of wisdom, along with his insights on how and why he serves.
"Standing up at the altar serving Mass helps me to pray," he told the Register. "As long as I am going to Mass, I want to serve."
In addition to serving Mass, Deacon Girard attends almost every parish event, the Register reports. "He's always on the go; a real witness, especially to older people," Father Walter Ptak of St. Sebastian said. "He has such a positive spirit and keeps going forward, proclaiming the Gospel and living it."