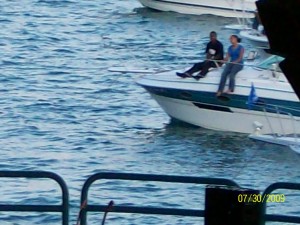 Usually, I have to get up early and make it to Gesu so that I can spend time with my babies. This week they are on break so I just had to make it to class by 6:40. Well I can tell you that I knew I would be late just because I was not in the area well ahead of time for class. We had two books for Professor Farris' class; one was a little handbook and the other was our textbook. We spent a substantial amount of time reading out of the handbook, so I waited until yesterday to go get the textbook. I wish someone would have told me that the school sends the textbooks back after a certain time. Then again, after three years of school I probably should have known that already. To make matters worse, I present today and I am supposed to have all the chapter quizzes turned in tonight.         Last night I was able to borrow the book from a group mate. I spent the day reading my chapter and creating the ten key points that I had to present in class. Unfortunately I did not have time to get the chapter quizzes done. Rain was pouring down like buckets of water and for some reason I could not establish an internet connection. Walking in class 20 minutes late, the first thing Professor Farris said was, "I had faith in you Grier." Professor Farris let me present without making me walk in the rain and I was nervous, but I didn't do too badly.
        It's sad that we already have a small class and so often someone is not there or it's always an excuse. We are grown, yet so many people act like they need their hand held. People can't get things done and you wonder how they even make it this far in college. I've seen people miss almost every class for at least a month only showing up to do major projects and exams. How can you really receive effective learning if you have no dialogue with your class mates, don't hear the teacher's lectures and are absent all the time? I might be late, but I'm there most of the time. In some classes I'm there all the time.
        I feel bad for the girl who missed class on her day to present. It's messed up because she could not make those points back up. Service learning kicked a lot of people in the butt because they were unable to complete it. Ironically, my teacher "went ham" a little bit because she said we knew we had service learning since the beginning of the year. So for everyone who didn't complete it, there was no excuse. I agree to a certain extent. I almost didn't get mine, but as soon as I went up to the facility and spoke to someone I got instant results.
        We even had a person in class who switched groups and while that is a valid excuse, if you did not switch groups until a couple weeks before everything was due than your service learning could have been done at the site you were working at before you switched groups. I'm not blaming anyone or making excuses-I'm just saying hmm…
**MY ADVICE FOR THE DAY**
It's getting warmer outside, so go experience the weather. Get off of the computer and see the sights instead of just looking at websites. Take your phone, a notebook, a friend or whatever. Go read, write, take pictures, or just laugh and create memories. Every day is a gift that's why it's called the present. Treat it as such…
If you have any questions or comments or are interested in contributing to this page feel free to click on a post and comment below it or email me grierec@udmercy.edu
Social Work
Junior
~Miss Erica Grier~