If there is any holiday that is an architect's holiday, it is Halloween.
Halloween allows individuals to alter their perceived form through visual manipulation (i.e. costumes, props, and sets). This means fun projects! There are few things that architecture students like more than the ability to get fun and crafty. The possibilities are limitless, only hampered by your ability to construct your costume. You can even converge your architecture and Halloween skills to become a building.
A perfect example of the architecture-Halloween relationship is the University of Detroit Mercy Safety Street, conceived by architecture students 21-years ago. Each Halloween students from various student organizations make facades and sets, that local school and neighborhood kids can trick-or-treat from in a safe environment. This years Safety Street was yesterday and of course the school of Architecture always has the most elaborate facades, what else would you expect. Case in point the photo below: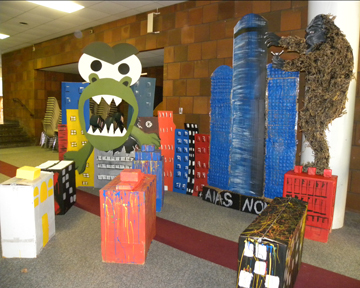 In, closing get out there and celebrate the architect's holiday!