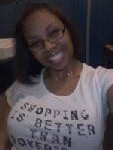 Imagine you had to plan out your life and tell what you wanted to accomplish before your demise. Professor Farris gave out an assignment and she asked us to create a mission statement for our own lives. It seemed fairly simple, but once you seriously start thinking about where you want your life to go, it can get difficult. This is what I came up with.
Mission Statement
My mission in life is to attain good mental, spiritual and physical balance as a productive member of society. Personal goals will include being joyful, educated, financially stable, business minded, ethical and acting in the manner most relative to the paradigm deeply seeded within my character. As a professional I want to be effective, efficient, genuine, competent, empathetic, common-sense minded, ethical and always behaving in a manner that will inspire others to reach their potential and become self-sufficient individuals. Uniting all of the aforementioned ideas will allow me to leave a positive lasting impression on the lives I touch, which will lead me to reach a level of success that can only be defined from within.
        I went and turned in my volunteer application on Monday. The lady was so nice and she thanked me for taking the time to go through everything necessary for the application process. It makes you appreciate putting time in at a facility when they treat you so nicely.
        Today was the first snowy day we have had this semester. I'm sure a lot of people wanted to stay home. Luckily, many of the teachers who had evening classes canceled them tonight. Hopefully, everyone made it home safely.
        I didn't know Field Placement Applications were going to be due so soon. We will be maybe eight weeks into the semester at the end of the month and they have to be turned in for field placement next fall. Since they require a background check I will have to make time to go get that done sometime soon.
        Sometimes it seems like I have a never ending cycle of homework and reading. Then again, what kind of professional would I become if I didn't fill my head with as much knowledge as possible? For some strange reason, ever since I have come back to school-life is much more peaceful. I have learned so much about me and my personality. At times it seemed like I was unhappy when I should have been happy. After a few English, Human Service and Ethics classes, I realized I wasn't happy because I wasn't being myself. The world will have you being something you aren't chasing things that will leave you unfulfilled. There can be a teacher, a class or just a moment when you realize you want to change to make yourself happy. That is one thing I have accomplished in school and it has made me a better person to be around.
MY ADVICE FOR TODAY
**Know the difference between what you think you hear and what is actually being said. People will occasionally say things and leave the message vague and open to interpretation. It's safe to say that we know what happens when you assume. So if you assume then the only person you leave uninformed is self. Listen Carefully. When in doubt-Ask Questions…**
If you have any questions or comments or are interested in contributing to this page feel free to post a comment or email me grierec@udmercy.edu
Social Work
Junior
~Miss Erica Grier~