Would you say the first year of college is the most exciting time or the most stressful time in your student's life?
The truth is, either answer is correct. The first year of college is both exciting and stressful. It is exciting because everything is new — friends, classes, teachers, the campus and buildings. It is stressful for exactly the same reasons. Familiar and comforting places and faces are replaced by strange new ones. Nothing is easy or predictable.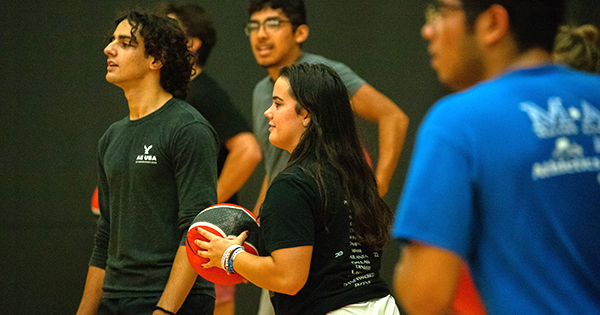 One national study says about 25% of college freshmen feel overwhelmed. In most cases, these feelings pass in time. But you may be asking what can you do to ease your student's transition into this exciting but stressful new world? You can help him or her understand the importance of maintaining a balance among mind, body and spirit.
Balanced Body
Dump the junk food and java. A balanced life requires a balanced diet. Sadly, college students are not famous for healthy eating habits. They gulp endless cups of coffee and bottles of Mountain Dew to stay awake while cramming for exams. They snack on cheap, greasy fast food.
But junk foods make us feel sluggish and dull. Sugar creates an artificial spike of energy quickly followed by a physical and emotional letdown. The caffeine in coffee can cause irregular heartbeats and dizziness. These are the worst possible foods for a stressed-out student.
What You Can Do. If your student lives at home, provide plenty of fresh fruit and energy bars for munching during the commute. Stock up on decaffeinated herbal teas, whose soothing aromas and natural ingredients have a calming effect. If your student is a resident, send care packages of fruit and healthy snacks to school on a regular basis. Students on McNichols and Law campuses also love when The Big Salad is available. And they'll find many healthy options at Tommy's Café.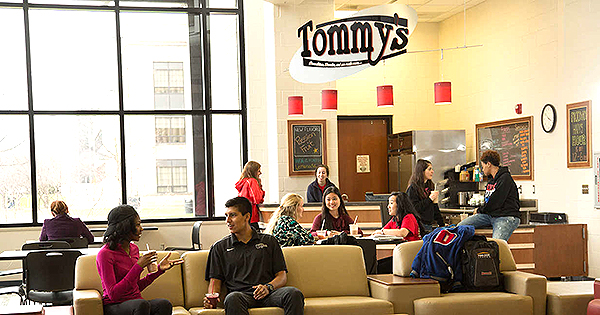 Work it Out. Your student also needs regular exercise. Jogging, biking, walking, playing tennis or whatever he or she likes best will decrease stress and help them sleep well, another crucial aspect to good health.
What You Can Do. Make sure your student knows about Detroit Mercy's Fitness Center. University Recreation (URec) offers programs and classes, fitness equipment, intramural sports and its own Adventure Series. It's a symbol of Detroit Mercy's commitment to the physical health and well-being of our entire community. And it's open during exams!
Balanced Mind
It's Not All Book Learning. There will be plenty of mental challenge in your student's college classes. Frantic first-year students, faced with hours of reading and dozens of papers to write, sometimes feel they must study around the clock. But their minds will stay sharper if they occasionally take a break from books and focus on something else.
What You Can Do. Encourage your student to do things outside of class. Join one of Detroit Mercy's many clubs or organizations or find campus events. Play intramurals. When the weather is nice, play disc golf or borrow a bike, even chill out in hammock.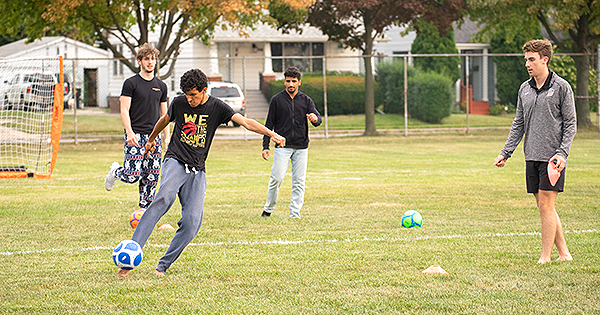 Detroit is a vibrant city. Browse through galleries, bookstores and museums. These breaks will refresh your student and keep their mind alive and healthy.
Balanced Spirit
Keeping the Faith. First-year students at any college can feel a bit lost and lonely. Here at Detroit Mercy, the Jesuit and Mercy charisms of compassion and respect infuse our community so no student has to feel that way for long. University Ministry offers regular services and multifaith events for many denominations, in addition to retreats and opportunities to do service in the community. Service Learning is an essential component of a Detroit Mercy experience. One of the benefits is that in helping others you will always feel better yourself.
What You Can Do. Encourage your student to make time for worship and meditation. Familiarize yourself with all Detroit Mercy's spiritual resources and opportunities.
Better Balance: Parent and Student
The last bit of balancing is between parent and student. It's natural for parents to want to protect their students from problems and pain, but it's important for young people to learn how to cope on their own. Over-involvement through constant calls and text may be well-intentioned, but they will not help your student become independent, they won't allow your student to take ownership of his or her own education and life.
Warning Signs
A little anxiety is natural at the beginning of college. However, if it lasts too long or interferes with normal life, there may be a deeper problem. Detroit Mercy has the resources to help.
If Your Student is a Commuter
There's no reason students who commute should not feel every bit as involved at Detroit Mercy as residents. Encourage your student to remain on campus for events. Also, participation in one of Detroit Mercy's many cocurricular programs will keep him or her in the loop.