When it comes to their student's health, parents want the best. You'll be glad to know that we have the best care at Detroit Mercy. Our McNichols Campus health clinic is a fully equipped medical office, which includes two exam rooms, medication dispensary and a diagnostic lab.
Flexible scheduling, same day and walk-in appointments are available
We provide students access to primary care, health maintenance and preventative screening
Urgent care, acute illness and injury care
Chronic illness and medical condition management and more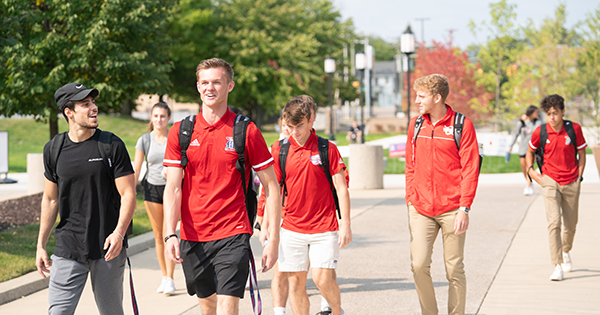 Student Health Insurance
We do have certain requirements to make our excellent health care program possible. One is that all students living in the residence halls must have documentation of health insurance. They may have the Detroit Mercy student health insurance plan offered through the Aetna company, or show proof of comparable coverage. To learn more about the plan, go to the Aetna Detroit Mercy page. Be sure to discuss your options with your own medical health provider.
Immunization Policy
There may be immunization requirements for students entering certain colleges or programs (the College of Health Professions for instance). Students also provide a health history form and must be immunized for Coronavirus (COVID-19).
Note that students who apply for readmission after a year's absence must provide appropriate proof of immunization upon their return.
Download the forms you need:
Note: Students will not be allowed to register for classes without proof of these immunizations or submission of an authorized Exempt from Immunization Compliance Form.
Emergency Medical Services
Police – Fire – Medical
Call 911
If on campus, University of Detroit Mercy Public Safety/Emergency Line
Call 313-993-1234
Stay safe: If danger seems imminent, call 911
Stay calm and avoid escalation
If on campus, call University of Detroit Mercy Public Safety 313-993-1234
During business hours, call the University Wellness Center at 313-993-1562 (make sure someone is with the student while the call is being made)
You can also review our Students in Distress: a Guide for Parents on our website.
Managing Student Medications
If your resident student has a chronic condition, you should know that prescriptions can be delivered to his or her residence hall through a local pharmacy. Appointments to the Wellness Center can be made by phone 313-993-1185 or email at wellnesscenter@udmercy.edu.
International Students
All F-1 visa holders (excluding Canadian citizens) are required to purchase U.S. health insurance through AETNA. Find more information. This requirement is for your student's safety, should he or she become ill or need to seek medical attention. All new students must also take a TB skin test.
Counseling Services: Confidential Care
Professional outpatient counseling and psychotherapeutic treatment is available to students at no charge. Services are provided by a clinical psychologist, clinical social workers and mental health counselors licensed in Michigan at the highest level of practice.