Tuesday April 22 — Three Cairns – sculpture
This little boy exploring a large stone egg got me wondering the way art should.  Two artists here, the sculptor and the mom w camera.  So I emailed his mom back asking about the egg.  She's a close friend living in La Jolla, CA:  "it's a sculpture by Andy Goldsworthy, called "Three Cairns," in front of the Museum of Contemporary Art; my son calls it the 'egg rock'."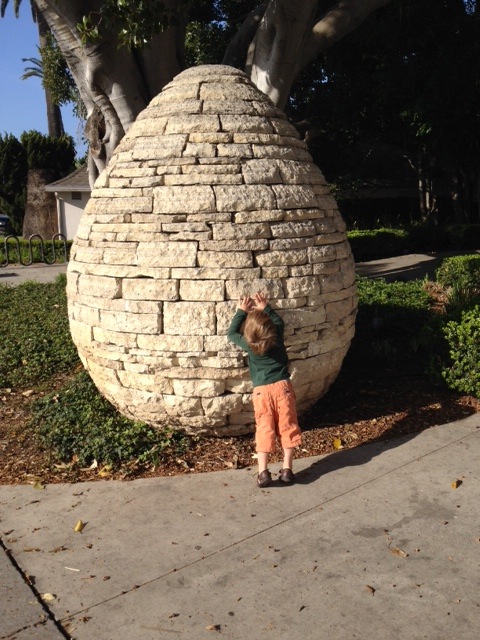 I found an explanation on the website of the Greater Des Moines Public Art Foundation (http://dsmpublicartfoundation.org/public-art/three-cairns/) .  Just below is their great picture of the central cairn  at the Des Moines Art Center.   "Cairns,"  Public Art tells us, are "stone structures [or markers] that identify a place of great importance. Their dry-stone construction represents an engineering feat as well as artistic creativity. The process of shaping and stacking the stones into a simple oval shape is challenging and intense. The form symbolizes fullness and ripeness, time and energy, loss and endurance."   The Foundation also tells us that this is the largest project in the Western Hemisphere by British artist Andy Goldsworthy.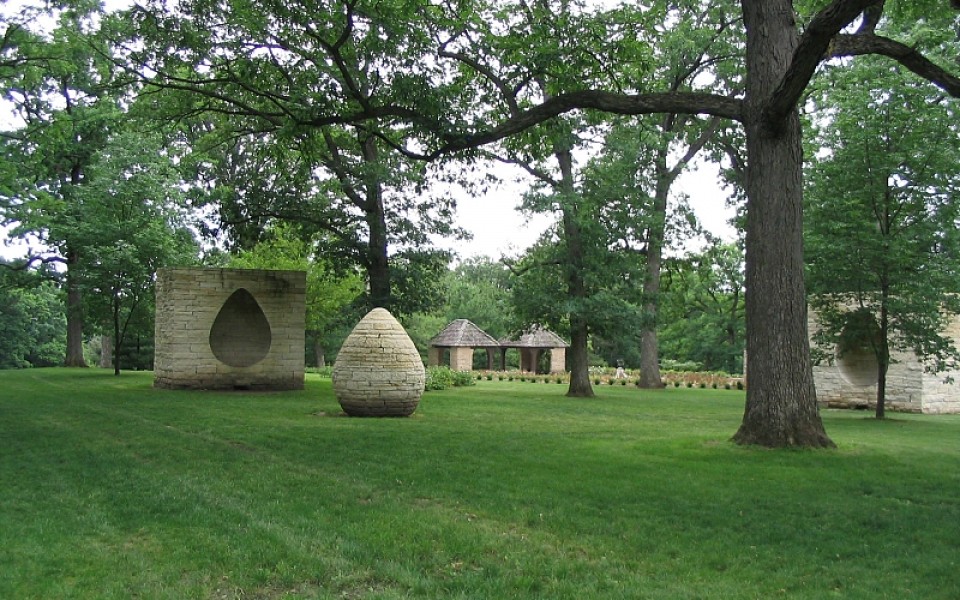 The photo, by Doug Millar, shows the central cairn at home among Iowa grass and trees.  Goldworthy's placement of the two hollow-out stone frames isn't random.  One points toward New York, a matching cairn outside the Neugerger Museum of Art; the other points west to the San  Diego Museum of Contemporary Art in La Jolla and the cairn my friend's son showed off for us.   The limestone for each comes from long before its physical home was inhabited by people calling their place "Iowa."
Lots going on here.   Not one place but three, not three places but a continent, not one time but millennia, all crafted with the precise skills of a contemporary worker of stone.  I like to imagine the work we do at the university like that.  These are exam days, demanding precise thinking and some memory.  But, our Mission Statement reminds our students, the point is not the exam or the grade; the point is a lifetime of their citizenship in a world that is vast and beloved of God.
Looks like spring rains today, encouraging grass and flowers and trees to do their thing.
john st sj