Monday, September 29 "Our dreams drink coffee with us"
A refreshing weekend for me; a good friend came in from out of town spending time with her family in Trenton. Tigers squeaked out a Division Win. Lions won. Packers won. "Hope springs eternal" as sports fans say. The 9th or 10th straight day of clean, crisp days; an early sprinkling of trees changing their leaves. "A good way to begin a week," I thought this morning, "I bet there's a poet who is coming close to the surface of attention." Joy Harjo. The Poetry Foundation rewarded me with a poem I'd not read before. Kitchen table as earthy mysticism.
I hope you like it; I hope it gives you a good start to this week when September turns to October and October begins to enchant us with its breezes and its colors.
Have a good day.
john sj
Today's Post
Perhaps the World Ends Here
The world begins at a kitchen table. No matter what, we must eat to live.
The gifts of earth are brought and prepared, set on the table. So it has been since creation, and it will go on.
We chase chickens or dogs away from it. Babies teethe at the corners. They scrape their knees under it.
It is here that children are given instructions on what it means to be human. We make men at it, we make women.
At this table we gossip, recall enemies and the ghosts of lovers.
Our dreams drink coffee with us as they put their arms around our children. They laugh with us at our poor falling-down selves and as we put ourselves back together once again at the table.
This table has been a house in the rain, an umbrella in the sun.
Wars have begun and ended at this table. It is a place to hide in the shadow of terror. A place to celebrate the terrible victory.
We have given birth on this table, and have prepared our parents for burial here.
At this table we sing with joy, with sorrow. We pray of suffering and remorse. We give thanks.
Perhaps the world will end at the kitchen table, while we are laughing and crying, eating of the last sweet bite.
Joy Harjo from The Woman Who Fell From the Sky by Joy Harjo. Copyright © 1994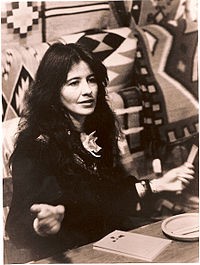 Crazy Brave, W. W. Norton & Company. 2012. ISBN 9780393073461.