Friday, October 31 –  "Trust that your hands will know the right thing to do even when you do not."
End of the work week,  end of October,  still autumn but heading in winter's direction.   Today's post comes  from the health care tradition of the Sisters of Mercy — if I've counted accurately, it's the 169th since #1 appeared in late September 2013 and The "Blessing of Hand's" third time on the Work Day list.  It's worth repeating.  Reading it out loud, with pauses for breathing, makes for good prayer.
It's Halloween too;  an evolved form of "The Eve of All Hallows" (i.e., the night before the Feast of All Saints on Nov 1).  In the Christian faith tradition tomorrow is a day to praise the sacredness of every human being, those walking around on the earth now and those who have gone before.  Maybe that's why The Blessing of Hands came to mind this morning.
Weather.com says it will rain a good bit today in Detroit with wind gusts up into the 24 mph range. We should see leaves flying all over the place.  Clouds and more strong wind tomorrow.   Sun all day Sunday should rinse the air and maybe begin to show off the delicate traceries of tiny tree branches without their summer leaves.
Have a good weekend.
john sj
Today's Post: Blessing of Hands
Hold up your hands and look at them
See your hands as God sees them.
Recognize the source of their power.
Imagine your life in and beyond the classroom. See the work of your hands in kitchens and corridors, on tennis and basketball courts, in dorms and dining rooms, at planning tables and parties and in gatherings of every kind. Choose to use your hands this year for good. Trust that your hands will know the right thing to do even when you do not; and know that, in every act, small or large, the work of your hands makes a difference.
Bless the work of our hands.
Bless the hands that build lasting things.
– hands of architects, engineers and chemists;
– of stone masons and day laborers;
– of writers and printers; of inventors and computer programmers;.
– of teachers and parents, negotiators and peacemakers, poets and musicians.
Bless the hands that build, we pray.
Bless the hands that heal.
– hands that skillfully clean and mend and comfort those in pain;.
– that create beauty in art and song, in homes, parks and gardens;
– that touch with strength, with compassion and tenderness, with healing power.
– that are lifted up in prayer asking for the transformation of difficult situations.
Bless the hands that heal, we pray.
Bless the hands that reach into the future
– hands that open with invitation and hope,
– that reach out to new possibilities
– that hold strong to what is just,
– that extend their passion for doing good toward a world in need.
Bless the hands that reach into the future, we pray.
Madonna from Mercy College Campus to UDM Campus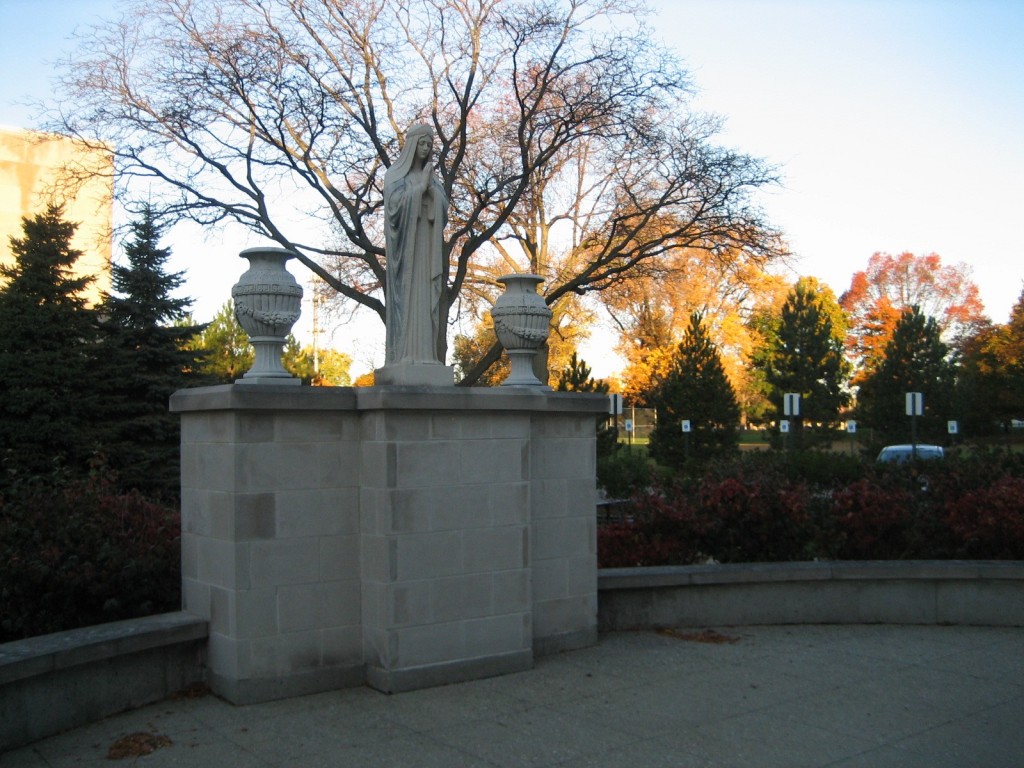 College of Health Professions  –  entrance