Monday  November 17  "Watching you, I see how your face bears the signs of our time together"
I stood in the pre-dawn dark looking out on the McNichols gate, watching early traffic.  But mostly, breathing in the first snow that stuck after it fell overnight.  The campus always looks good — thank you Facilities — but this snow dusting helped me enter the morning with stillness, a restful time after the intensity of the past two weeks.  Judge Rhodes signs off on the City's bankruptcy exit plan; Barak Obama responds to the elections by facing off with GOP leaders; some of the media I follow holds up the 25th anniversary of the 2 Salvadoran women and 6 Jesuit faculty.  That's a lot in a short while.
The snow got me looking for simple beauty.   I lucked out and met Stephen Dobyns for the first time.  Wikipedia tells me he graduated from Wayne State and got an MFA at the University of Iowa. I counted 13 books of poetry between 1973 & 2010.   As with most good poems, "Waking" opens with the ordinary, the poet waking beside his still asleep wife and their baby.   Then it finds its depth. I hope you like it.
It's best to read poems out loud, budgeting time for some pauses.
Winds out of the West South West get gustier as the day goes on, slightly warmer weather by the weekend, maybe some snow on Wednesday; so says Weather.com.  Have a good week.
john sj
Posted by Phyllis Cole-Dai on Nov 13, 2014 12:00 am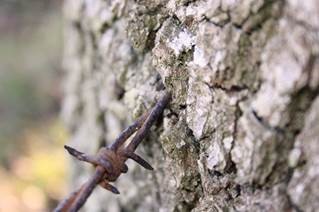 Waking, I look at you sleeping beside me.
It is early and the baby in her crib
has begun her conversation with the gods
that direct her, cooing and making small hoots.
Watching you, I see how your face bears the signs
of our time together—for each objective
description, there is the romantic; for each
scientific fact, there's the subjective truth—
this line was caused by days at a microscope,
this from when you thought I no longer loved you.
Last night a friend called to say that he intends
to move out; so simple, he and his wife splitting
like a cell into two separate creatures.
What would happen if we divided ourselves?
As two colors blend on a white pad, so we
have become a third color; or better,
as a wire bites into the tree it surrounds,
so we have grown together. Can you believe
how frightening I find this, to know I have
no life except with you? It's almost enough
to make me destroy it just to protest it.
Always we seemed perched on the brink of chaos.
But today there's just sunlight and the baby's
chatter, her wonder at the way light dances
on the wall. How lucky to be ignorant,
to greet joy without a trace of suspicion,
to take that first step without worrying what
comes trailing after, as night trails after day,
or winter summer, or confusion where all
seemed clear and each moment was its own reward.


"Waking" by Stephen Dobyns, from Velocities: New and Selected Poems, 1996-1992. © Penguin, 1994.