Tuesday, December 23  —    7th Antiphon  "O Emmanuel"
O Emmanuel!  ruler  and giver of our laws,
Hope of the people from across the whole world,
Come to save us
O Lord our God.
Have a blest day.
john sj
Dec 23 – 7th Antiphon   O Emmanuel – O With Us is God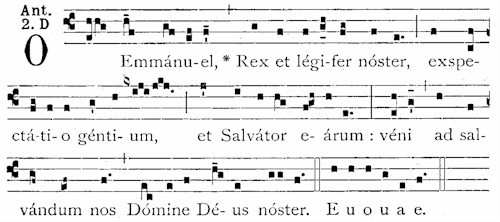 Today's Post:  "O With Us is God"
To listen to the Antiphon sung in Gregorian Chant  —> https://www.youtube.com/watch?v=FWGM9bJR2Cs
December 23: O With Us is God
O Emmanuel
O come, O come, and be our God-with-us
O long-sought With-ness for a world without,
O secret seed, O hidden spring of light.
Come to us Wisdom, come unspoken Name
Come Root, and Key, and King, and holy Flame,
O quickened little wick so tightly curled,
Be folded with us into time and place,
Unfold for us the mystery of grace
And make a womb of all this wounded world.
O heart of heaven beating in the earth,
O tiny hope within our hopelessness
Come to be born, to bear us to our birth,
To touch a dying world with new-made hands
And make these rags of time our swaddling bands.
~Malcolm Guite
http://malcolmguite.wordpress.com/