Friday  January 16, 2015   —  Bragging rights down the street 
Today's post began with a morning email from Gilbert Sunghera, sj, an immensely creative  teacher for UDM's Archie students and for people across the country seeking a vision for a local sacred place, a nationally known consultant.  Around the Jesuit community he gets some teasing for another expertise.  He knows his fast foods and keeps on turning up new foodie finds while roaming Detroit as part of the School of Architecture's commitment to the city's rebirth.  No surprise, either; he trained from childhood in the heartland of fast food, Los Angeles.   He emailed 3 Detroit lovers — Sr. Beth Ann Finster, ssj, Joel Medina, sj, and me — long before dawn: "I guess it is official."  www.dailydetroit.com/2015/01/15/buddys-wins-award-tastiest-pizza-north-america  (download the official Twitter app here)
The original Buddy's, 4 miles east of campus on 6 Mile, stands high on my Welcome-to-Detroit bucket list.  Lots of us are fanatics.  Thank you, Gilbert, for word of the Chowzter award for "Tastiest Pizza in North America."  It changed my thinking about today's post;  I looked for a poet who writes about cooking and food and found someone new to me.  Judging the poem I found and her vita, she will become familiar to readers of the Work Day list.  How have I missed her work until now?
Best to read the poem out loud with a few pauses.    Jane Hirshfield's short bio appears beneath the poem.    It's taken from a longer article about her at this site:  http://www.thekitchn.com/jane-hirshfields-5-poetic-essentials-for-home-cooks-expert-essentials-194022.
john sj
p.s.       Homecoming weekend on campus, Lady Titans and the guys both won their last games.  Packers play on Sunday.
Have a great weekend.
Today's Post:  "Da Capo"
Take the used-up heart like a pebble
and throw it far out.
Soon there is nothing left.
Soon the last ripple exhausts itself
in the weeds.
Returning home, slice carrots, onions, celery.
Glaze them in oil before adding
the lentils, water, and herbs.
Then the roasted chestnuts, a little pepper, the salt.
Finish with goat cheese and parsley. Eat.
You may do this, I tell you, it is permitted.
Begin again the story of your life.
(Note: the soup of this poem is one we made at Greens of San Francisco)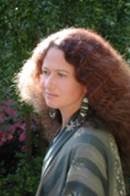 From The Lives of the Heart (HarperCollins, 1997)
Jane Hirshfield is an award-winning poet, essayist, and translator. Her work has appeared in numerous publications such as The New Yorker, Atlantic Monthly, The Times Literary Supplement, as well as many literary journals and several volumes of The Best American Poetry and Pushcart Prize. She was featured in two PBS television specials, The Sounds of Poetry and Fooling With Words. In 2012 she was elected a Chancellor of the Academy of American Poets.