Monday March 9 – this post was mostly written Sunday morning around 9:30 while reading the Sunday papers.
On Saturday, I learned that Rochelle Riley will speak on campus at 7:00 pm on Thursday, March 12 (hosted by UDM's African American Studies Program and Women and Gender Studies): "[Black] Women as Public Intellectuals". I emailed Dr. Terri Laws, who directs the African American Studies Program, asking her to count my email as an rsvp. I love reading Riley's Detroit Free Press columns.
Sunday morning I read her column, along with two other long articles, all of which began on the front page above the fold. All three covered the shooting of Judge Terrence Berg on his back doorstep. Two young men wanted to get into the house; the judge refused; one of the young men shot him in the leg; they ran away. Then Anita, Berg's wife, got busy getting help for her husband. This happened in our neighborhood, the University District neighborhood, the Jesuit Gesu Parish and U of D Jesuit High School a mile away. Rochelle Riley's column frames the two longer articles. Anita decided not to chase the two young men as they ran away (she's done it before), just hurled an obscenity after them and began taking care of her husband. Neighbors came out of their houses and converged at the Berg's. Coming to help.
Ms. Riley embodies the soul of this poetry list, a work day in a hard time. She gets it about the way violence and kindness are contiguous here. I'll be proud to listen to her Thursday here on campus. Right now, on Sunday morning at 10:29, I'm heading across the street to the Gesu church to be part of the worship and the singing in that place that welcomes its city and its stories.
****** ****** ****** ****** ****** ****** ****** ****** ****** ****** ****** ******
Now it's Monday morning. Yesterday, reading the newspaper coverage and worshiping with the Gesu congregation reminded me of why living right here these past 34 years distills sheer beauty in my life. I'll be there Thursday evening in Engineering 220. Her column, Today's Post, is not a poem but you may find a few lines that help to read out loud, with pauses.
Have a blest week. 52º & sun yesterday, snow begins to melt. Sweet.
john sj
Today's Post – "In Detroit We've Got Hate on the Run"
By Rochelle Riley, Detroit Free Press Columnist
March 8, 2015
When one of the first things Anita Sevier did — in the hours after her husband was shot in a robbery attempt — was tell the world "Don't blame Detroit," I wanted to stand with her.
News of the shooting spread quickly. Judge Terrence Berg was hailed as a hero for standing up to thugs. And he is. But there's another hero, no matter what she says in protest.
"Instead of being angry," Sevier said to Detroiters and to the world, "be part of the solution for the hopeless teens and children of Detroit. We don't want this to be a reason to hate."
Hate is an unwelcome resident of Detroit.
It moves around indiscriminately instead of living in one place where we can keep an eye on it. Its cousins — apathy and anger — turn up anywhere, unwanted and often unprovoked.
But here's the thing: Hate has ruled for a long time. Detroit has let it, lived with it, let it run rampant over the city.
But things are changing in Detroit.
Hate is not the city's only resident. Hate is getting a run for its money, thanks to people moving in and people like Judge Berg and Anita Sevier not moving out over 26 years.
There are many more Detroit residents like the Berg family, families descended from families who have loved this city for decades. They are the ones who fight for a better Detroit from the inside — and most are welcoming help from wherever it comes. There are Detroiters, former and future, around the world who remember the great city they once knew or envision the great city they want.
That city has got to tell Hate it isn't welcome anymore. That city has to get rid of apathy and demand that every person stand up and be heard.
Some say that Mayor Mike Duggan's biggest challenge is creating dense, safe, stable neighborhoods that new residents will flock to.
Some, including me, say that effective, safe schools for Detroit children deserve the most attention.
But truly, if we're honest, we all know the real obstacle to what Detroit is and what it can be: Crime.
Crime affects neighborhoods. Crime affects schools. Crime affects children. Crime affects families.
Crime threatens the city's renaissance.
We don't need more studies to explain why there is so much crime. Part of the answer is a lack of jobs. Unemployment is more than a number — it has faces and ages. Where there is frustration and need, there is crime.
But what Anita Sevier said, even before her husband headed into surgery, was that it's not Detroit's fault. Not the entire city.
If we have to attach blame, then blame the proliferation of guns so easy to get that a child can shoot himself with one. More than two years after a former student shot up a Newtown, Conn., school and killed 20 children, we are still cowards about demanding strict gun laws.
If we have to attach blame, blame the thugs raised for prison rather than college, who live to shoot rather than live to succeed. Some could have been saved, if their parents had tried and if they themselves had used school for an education rather than day care until they could drop out.
Two thugs attacked a judge outside his house. They didn't steal anything, not a wallet, not a car.
And most importantly, they didn't steal the spirit of a longtime Detroit resident who, in the middle of despair, had the presence to ask people to rise above the destructive emotions that have held Detroit back.
Hate the thugs, if you must. But not the city.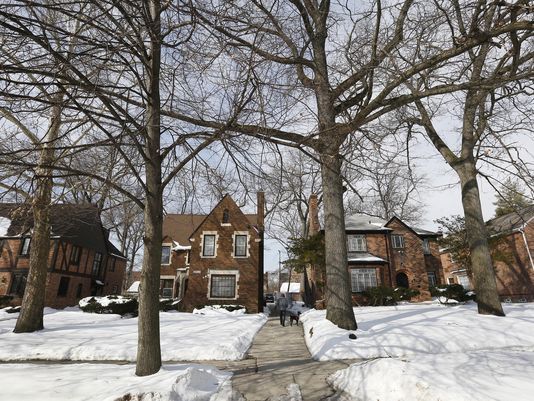 Ronald Belle, 70, a retired city of Detroit worker returns home after walking his dog on Oak Drive in Detroit on Saturday, March 7, 2015.
(Photo: Romain Blanquart Detroit Free Press)