Friday, May 8  "Karim Wasfi . . .  had decided to play amid the wreckage . . ."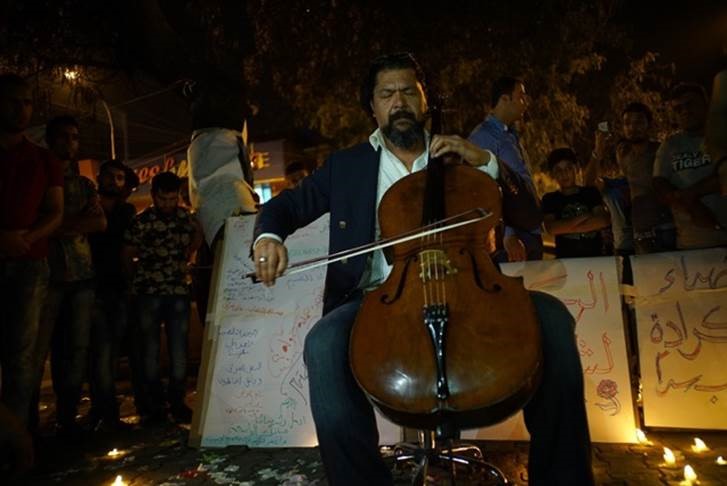 "My house is just behind that main street, so it was very symbolic for me to. wake up, grab my cello and walk to that spot, get my cello out of my case, sit by the rubble and the shrapnel and the whole scene of death and the scene of fire and the scene of human beings turning to ashes, and play.  .  .  .  . "
"Iraqis needed to experience beauty, not just endure one bomb after another."
These three days — Law, Dental, McNichols mark a pause in the year for the university to breathe and appreciate achievement.  Days about our students and their families, and about their teachers and the host of UDM employees who have mentored those students.  Days of play and pride.   Last night I came across this remarkable piece in The Washington Post.  It did not feel out of place during UDM's days of celebration.  We base our commitments to teaching and mentoring on the principle that Karim Wasfi made real in the bombed street of his Bagdad city neighborhood.   All the excitement and beauty of commencement never means to whistle past the rubble and the wounds.  Like the Iraqis and life-long,  we need to experience beauty, not just endure . . . "   Commencement weekend's dancing runs as deep as the years of  tests and assignments that required this year's students to suck it up, all these years of learning.
To quote cellist Wasfi one more time:  "Why do we keep on doing this?  Because we appreciate beauty and we want to build, not to destroy."
Blessings on these days.
john sj
Today's Post: "After car bombs explode, an Iraqi musician shows up with his cello"  Loveday Morris  May 7 Washington Post
The Washington Post article is not very long & its video runs 4:36.   Listening to Karim Wasfi's playing is today's poem, wordless and exquisite.
Article:  http://wapo.st/1AFQe6n
[jwplayer mediaid="1364″]