I know the poetry list is on vacation until August, & so am I, sitting in my tiny 1896 wood frame bedroom looking out over Sunset Lake (see the ps below).  However, I just read a piece in today's Crain's Detroit Business, a blog by  Cassie Mattheis, one of the c. 30,000 Lutheran high school students who came to town this week.   I love what she wrote about Detroit so I am passing it along.
http://cassiesrandommusings.blogspot.com/2015/07/a-letter-to-detroit-from-national-youth.html?m=1
john sj
p.s.   Yesterday (July 23)  I began my week's vacation at the 1896 Jesuit non-winterized wood frame villa looking out on Sunset Lake from our 100 year plus c. 100 ft long veranda.  I nap, work out, read, nap some more, play Sheepshead (look it up) with long friends, swim in the c. 90 ft glacier lake, one of 22 lakes in The Chain O'Lakes.  We got here first, back in 1896, when the only other buildings on the lake were the Veterans Hospital for the wounded of the Grand Army of the Republic,  so we have c. 500 feet of shore line, a fine ridge c. 50 ft above the lake.  Like that.
Each morning except Sunday (closed, alas) I come down to the Library about 9:30 for c. 90 minutes and read my emails + some of the world's best newspapers.
from here .  .  .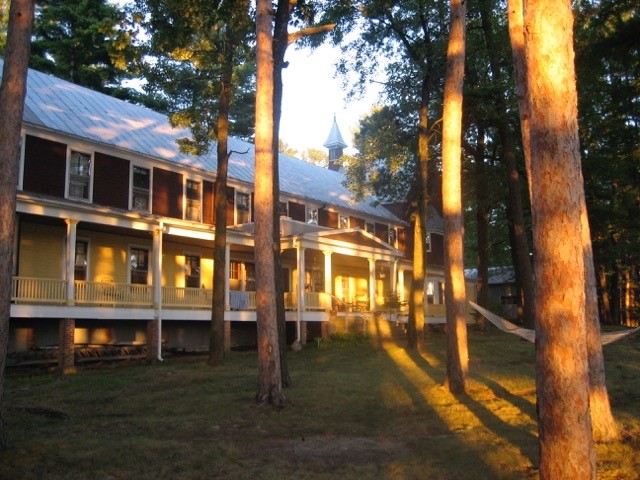 You see the lake, the little island on the right is "Esther Williams Island."   She may have owned it back in the day.
The steep c. 50 ft bank on the east end of the mile long lake, brings prevailing westerlies up over the bank, following Bernouli's principle, speeding up a bit and cooling the whole house most days.  Yes, we have toilets and running water and wireless.