Today is the first anniversary, plus one day, of Rx for Reading Detroit, founded by one of UDM's professors, Mary-Catherine Harrison.  She accepted my invitation to edit today's post.
Have a good day.
john sj
Friday, September 25  –  "Somebody has to go polish the stars"
Most of us didn't fall in love with poetry in a college classroom.  We fell in love with it as children, listening to the lilt of nursery rhymes, learning to read in the company of Dr. Seuss.
When I founded Rx for Reading Detroit one year ago, I couldn't have imagined where we would be today.  With the collaboration of community partners, the hard work of volunteers, and the incredible generosity of hundreds of donors and supporters, we have distributed over 15,000 children's books to kids in our community, built 15 RX for Reading Libraries in low-income health, dental, and WIC clinics, and read with over 150 kids in our community.  Please take a moment to read more about our work and consider making a donation to help support children's literacy in our community.
All children deserve poetry.
Mary-Catherine
Today's Post:
One of my favorites by a great children's poet, Shel Silverstein: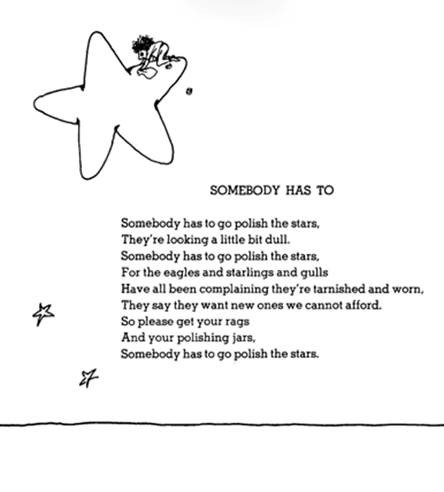 Rx Detroit team with students at Gesu School, across the street from the McNichols Gate on campus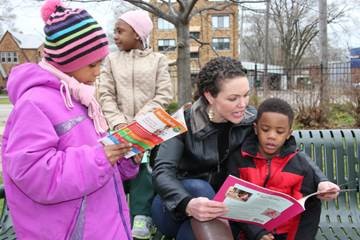 Mary-Catherine Harrison reading with children and, 2nd picture,
standing next to the real tall guy in the Gesu group picture.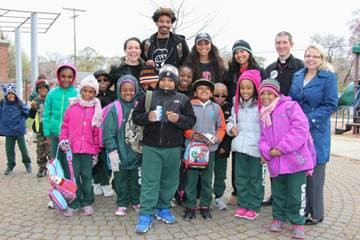 Associate Professor of English
Director, Academic Exploration Program
University of Detroit Mercy
4001 W. McNichols Road
Detroit, MI  48221
mc.harrison@udmercy.edu
(313) 993-1081