Friday February 26  ". . . and in this world not everything's been examined"
A friend of many years emailed me January 13, the day after Gerry Stockhausen died;  hers was one of so many that I only found it yesterday as I open one beautiful note after another.
********
******** ********
"I took a walk this evening, by the river, close to sunset–and tried to think of what I wanted to say to you by way of comfort on the death of your friend Gerry.  Slowly, I pieced this together, from your reference to him as a "soul mate," and from your post, a few days ago, about a sermon he gave that inspired you.   Souls…inspirations…We don't lose our friends when they die, because we inspire them, breathe them in–and they become part of us, their souls become part of ours."
"I've also attached two of my favorite poems, by way of reminding you that there is still beauty in our world."
********
******** ********
So, this Friday morning, weeks after I began to learn my way into the absence of a soul friend, I read one of the two poems the way I encourage readers of the Work Day list to  read;  out loud, with pauses.  I bet you will love it as my friend who sent it does and as I, now this Friday morning in late February, do too.
Have a blessed weekend.
john sj
Today's Post "A Little Girl Tugs At The Tablecloth"
Wislawa Szymborska
 She's been in this world for over a year,
and in this world not everything's been examined
and taken in hand.
The subject of today's investigation
is things that don't move themselves.
They need to be helped along,
shoved, shifted,
taken from their place and relocated.
They don't all want to go, e,g., the bookshelf,
the cupboard, the unyielding walls, the table.
But the tablecloth on the stubborn table
– when well-seized by its hems –
manifests a willingness to travel.
And the glasses, plates,
creamer, spoons, bowl,
are fairly shaking with desire.
It's fascinating,
what form of motion will they take,
once they're trembling on the brink:
will they roam across the ceiling?
fly around the lamp?
hop onto the windowsill and from there to a tree?
Mr. Newton still has no say in this.
Let him look down from the heavens and wave his hands.
This experiment must be completed.
And it will.
(Translation: Clare Cavanagh and Stanisław Barańczak)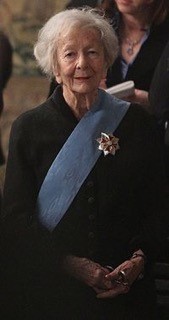 Maria Wisława Anna Szymborska[1][2] [viˈswava ʂɨmˈbɔrska] (2 July 1923 – 1 February 2012)
Nobel Prize in Literature 1996
https://en.wikipedia.org/wiki/Wisława_Szymborska