Monday, March 14  –  "This is not the time to chastise."
Through most of March, UDM's Theatre Company is partnering with The Matrix Theatre Company to produce Robin Bradford's play, Low Hanging Fruit.  Yesterday, I went with two friends: an unflinching and tender experience of homeless women who brought PTSD back from war.  In the post-performance conversation, several vets in the audience asked the actors if any of them had served in combat.  None had.  The vet told them, "you are very good at what you do; you got this right, it feels real."
A close friend and Detroit Mercy grad has educated me over 10 years about the lives of veterans who carry the cost of war in their bodies and dreams. Today's post is a Work Day/Hard Time list shout out to veterans and the women and men who care about, and write about the ragged edges of Post-Traumatic Stress.  I found this piece, "For Veteran, poetry complements PTSD treatment" (http://www.blogs.va.gov/VAntage/20745/poetry-compliments-ptsd-treatment-veteran/) on the USVA's blog "VAntage Point."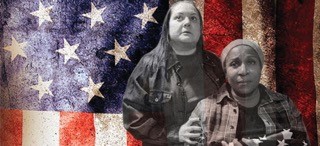 Have a blest day.
john st sj
Today's Post  "Poetry complements PTSD treatment"  (two poems without titles)
I began writing poetry when I was hospitalized in an inpatient psychiatry ward at the Palo Alto VA Hospital. It actually started as a form of journaling the thoughts and emotions I was experiencing upon entering treatment. As I transitioned into the PTSD inpatient treatment program, I began working more on my craft in order to truly convey my thoughts and emotions on paper. I found that writing my thoughts down was easier than finding words to speak in the moment:
Morbid, desolate, grim, and bleak.
Feeling so depleted, fatigued, and weak.
Can't find the proper words to speak.
So on this paper my pen will leak.
Writing has also complemented my PTSD treatment by allowing me to reflect on and process events as they occurred in treatment.   For example, I wrote the following poem after receiving some tough feedback from peers:
I've lost all of my comrades and allies.
So I'm planning my final demise.
This should come as no surprise.
I've crumbled right before your eyes.
This is not the time to chastise.
Just come to say your final goodbyes.
I like to compare the writing process to the process that an artist may experience when beginning a painting. In art, the artist typically has a theme or concept that he/she wants to transfer onto a blank canvas. However, if during the process that concept changes, the artist is still able to express him/herself without the confines of following rules. This is what I particularly enjoy about writing poetry; I am able to express myself freely and am still create something that may possibly resonate with others.
Besides the tools that I learned while in the PTSD program (5 column, distress tolerance and mindfulness), writing has been one of the most integral tools in my treatment in regards to helping me examine my thoughts. I think that the VA should invest more money into creative arts programs for Veterans who are in treatment because art is a great avenue to channel emotions and thoughts."
***************************
Laticia Brown is a 31-year-old Air Force Veteran, who receives care at the Menlo Park, California VA medical facility.
Editor's note: Each year, VA and the American Legion Auxiliary host the National Veterans Creative Arts Festival (NVCAF). The festival serves as not only a celebration of Veteran artists, but the culmination of talent competitions in art, creative writing, dance, drama and music for Veterans treated in the VA's national health care system. Find our more about the festival at http://www.va.gov/opa/speceven/caf/index.asp
Location: Boll Family YMCA Theatre, Detroit, Mich.
***************************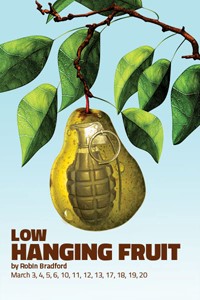 The UDM Theatre Company will be artistically partnering with The Matrix Theatre Company to produce Robin Bradford's play Low Hanging Fruit, which uses the self-imposed circumstances of four homeless women struggling to survive in a makeshift encampment under a freeway in Los Angeles. The women in this play are veterans of the Afghanistan and Iraqi Wars, each with physical and emotional scars. Issues of familial and emotional abandonment, homelessness, drug abuse and sexual exploitation rise to the surface, threatening the stability of the fragile stateside "unit" they have managed to patch together. Their stories, struggles and deferred dreams are painful reminders of the women we have neglected after having served their country in often inhumane conditions.
With grant funding pending, we have developed a multi-stage project surrounding the production. If funded, this project will include additional post show discussions, a Veteran's Job Fair, a Veteran's Clothing and Goods Drive, and a Restaurant Partnership Fundraising Drive for local Veteran Shelters.
Order your tickets online on the UDM Theatre web page.
Fee: See UDM Theatre web page