Monday,   June 6   ". . . amongst all natural things
I could live or not live;  it does not matter
to be one stone more . . . "
The last days of this year's time on Pine Ridge Reservation filled up with soul friends and familiar places waiting for me to come find them.   So I could stand still and pay attention to five decades of beauty.   I had planned to write the last poetry post out there, close to June 1, but here I am back home at Six Mile Road on June 6, savoring Pine Ridge days and tasting Detroit rebirth at the same time.
A soul friend sent me Pablo Neruda's "Oh, Earth, Wait For Me" a few months ago. a poem that a childhood friend hand-copied for her long ago.   I'd been waiting for a day that makes space for Neruda's grace: stillness and presence in the world.   Today's pretty good for that,  an invitation to trust the pace of summer and risk breathing slowly.   Best to read out loud,  with pauses.
Back in early August.    Have a blest summer.
john sj
Today's Post,  Pablo Neruda
Oh, Earth, Wait For Me
By Pablo Neruda
Return me, oh sun,
to my wild destiny,
rain of the ancient wood
bring me back the aroma and the swords
that fall from the sky,
the solitary peace of pasture and rock,
the damp at the river-margins,
the smell of the larch tree,
the wind alive like a heart
beating in the crowded restlessness
of the towering araucaria.
Earth, give me back your pure gifts,
the towers of silence which rose
from the solemnity of their roots.
I want to go back to being what I have not been,
and learn to go back from such deeps
that amongst all natural things
I could live or not live; it does not matter
to be one stone more, the dark stone,
the pure stone which the river bears away.
~Pablo Neruda
(Poem excerpted in "The Wood Wife" by Terri Windling, pages 130, 131)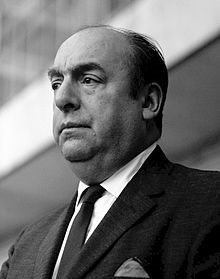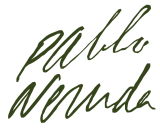 Wikipedia is not always eloquent.  These two paragraphs, though, from Neruda's short bio (https://en.wikipedia.org/wiki/Pablo_Neruda) are well written.
"Years later, Neruda was a close advisor to Chile's socialist President Salvador Allende. When Neruda returned to Chile after his Nobel Prize acceptance speech, Allende invited him to read at the Estadio Nacional before 70,000 people.[5]
Neruda was hospitalised with cancer at the time of the coup d'état led by Augusto Pinochet but returned home after 5 days when he suspected a doctor of injecting him in the stomach with an unknown substance for the purpose of murdering him at the order of Pinochet.[6]Neruda died in his house in Isla Negra on 23 September 1973 six and a half hours after that injection. Although it has always been reported that he died of prostate cancer/heart failure, on November 5, 2015 the Interior Ministry of the Chilean government issued a statement acknowledging a Ministry document from March of that year indicating the government's official position that "it was clearly possible and highly likely" that he was killed as a result of "the intervention of third parties".[7] Pinochet, backed by elements of the armed forces, denied permission for Neruda's funeral to be made a public event. However, thousands of grieving Chileans disobeyed the curfew and crowded the streets."