Thursday, August 11 from Santa Clara, CA
Hi,
This California morning welcomes in a third and last day where I am helping to welcome back some Santa Clara U undergrads just back from 8 weeks, some in India, some and sub-Saharan Africa where they lived with and met ordinary people who taught them how to live in, for them, new places in the world.  By their reports and slides yesterday it looks as if their village hosts did good things for them and allowed the students to do some good things in return.  Today begins this year's tutorial next-step process for women and men from various places in the world,  they will be welcomed to campus today and, I think, one-on-one tutorial sessions begin tomorrow.
I am glad to be here.  Too busy yesterday to post a poem.  This morning, over oatmeal, I found a few minutes.  My first favorite poet — if memory serves — makes a good short post.
Gerard Manley Hopkins, sj moves me and many of the readers of this list.  Blessings on your day wherever you are living it.
john sj
Today's Post,  "Pied Beauty"  Gerard Manley Hopkins, sj
GLORY be to God for dappled things—
For skies of couple-colour as a brinded cow;
For rose-moles all in stipple upon trout that swim;
Fresh-firecoal chestnut-falls; finches' wings;
Landscape plotted and pieced—fold, fallow, and plough;
And áll trádes, their gear and tackle and trim.
All things counter, original, spare, strange;
Whatever is fickle, freckled (who knows how?)
With swift, slow; sweet, sour; adazzle, dim;
He fathers-forth whose beauty is past change:
Praise him.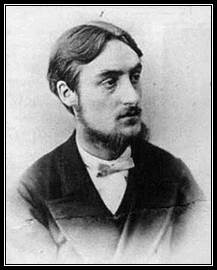 G. M. Hopkins, sj   1844-1889