Wednesday, September 7 – "All this tripping about"
Getting very busy around the university; lots of fast walking and flipping from thought to thought and task to task.  Except tomorrow morning, when the university's sacred anointing of a new year takes the form of "Celebrate Spirit!"  in the University Fitness Center at 11:30.   We celebrate with a Catholic mass, a homily and a speaker, and beautiful rituals of our identity.
Catherine McAuley could have been writing about Detroit Mercy as our new year cranks up in this memorable saying from her over-busy life leading the fledgling Sisters of Mercy.  The Mercies were born in an Ireland made brutal by the Industrial Revolution of British textiles when the Enclosure Movement evicted subsistence farmers from small plots to open broad spaces for sheep grazing.  Dublin became a city where wealth flourished in the center while its growing periphery packed in desperate poor people driven off those small village plots.  She named her fast walking and flipping from task to task "tripping about."
"Amidst all this tripping about: our hearts can always be in the same place
centered in God, for whom alone we go forward, or stay back."
Catherine McAuley (December, 1840)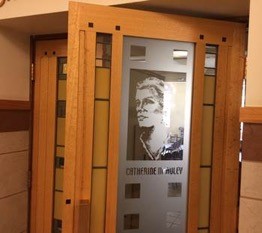 Catherine McAuley 1778 – 1841
Foundress: Sisters of Mercy 1831
Lovely expression, "tripping about." Better to trip about, I guess, than to just trip.  Better to hustle and scramble with a moment of breathing here and there in the day.   Here's a short poem to open a space for breathing  in  the middle of the early weeks of the academic year.  I've posted it three times before.
Have a blest day,
john sj
Today's Post "Enough"
Enough. These few words are enough.
If not these words, this breath.
If not this breath, this sitting here.
This opening to the life
we have refused
again and again
until now.
David Whyte, Where Many Rivers Meet

p.s. An ordinary blessing from living in a community — perhaps especially an urban university community, perhaps especially a community in a city groaning with unpredictable and wild labor pains of birth all around the city — is that friends of many years sometimes turn up and you weren't even the one who invited them;  another Jesuit did this time.    So this morning while making oatmeal for breakfast, a soul friend of many years, walked into our breakfast place.   We've talked a while about our lives and how we see the wide world in what this List calls "a work day in a hard time."  We talked about posting to our blogs and poets we love.  She asked me if I ever posted David Whyte . . . .  yes.
Melanie Svoboda's blog can be accessed here   www.melanniesvobodasnd.org