Thursday, December 15
Yesterday was busy with lots of valuable things,  didn't make it to the day's post.
Here.  One of my deepest poetry loves.  Read it out loud.   More tomorrow.
john sj
Yesterday's post  Denise Levertov, from "Conversations in Moscow"
And the poet–it's midnight, the room is half empty, soon we must part–
the poet, his presence
ursine and kind, shifting his weight in a chair too small for him,
quietly says, and shyly:
"The Poet
never must lose despair."
Then our eyes indeed
meet and hold,
All of us know, smiling
in common knowledge–
even the palest spirit among us, burdened
as he is with weight of abstractions–
all of us know he means
we mustn't, any of us, lose touch with the source,
pretend it's not there, cover over
the mineshaft of passion
despair somberly tolls its bell
from the depths of,
and wildest joy
sings out of too,
flashing
the scales of its laughing, improbable music,
grief and delight entwined in the dark down there.
from  Freeing of the Dust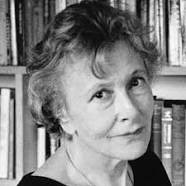 Denise Levertov
b. October 1923  d. December 1997