Today I share love poems written by Broadside Press authors Gwendolyn Brooks and S. Carolyn Reese. Brooks is likely familiar to some list readers but Reese, a Detroit-based poet, may be a new voice. She was to me. I discovered her work in the Dudley Randall Broadside Press special collection, archived in the Detroit Mercy McNichols Campus Library.
It was the first time I had gone through the complete material archive. Although I have read many of the works in reproduction, it was something else entirely to hold each original broadside, chapbook, or volume in my hands.
Reese's "Letter from a Wife," published by Broadside in 1967, was written to her husband while he was in Mississippi working in support of civil rights actions. Both Reese's poem and  Gwendolyn Brooks's "when you have forgotten Sunday: the love story" reveal the complete material ways  lovers come to imbue our lives—through the things we hold that are filled and emptied by love.
"Letter from a Wife"
S. Carolyn Reese
I retrace your path in my bare feet
Press my lips against your empty cup
Touch your clothes for now-gone warmth
View each object which your eyes beheld
Write your name and speak the same
I bless each day you elude the pack
Rehearse each word of love we spoke
Recall the vows your eyes declared
Your last touch lingers with me still
I face each day with dragging feet-weary heart
Apart-from-you takes half my strength
The rest I need for waiting.
"when you have forgotten Sunday: the love story"
Gwendolyn Brooks
—-And when you have forgotten the bright bedclothes
on a Wednesday and a Saturday,
And most especially when you have forgotten Sunday—-
When you have forgotten Sunday halves in bed,
Or me sitting on the front-room radiator in the limping afternoon
Looking off down the long street
To nowhere,
Hugged by my plain old wrapper of no-expectation
And nothing-I-have-to-do and I'm-happy-why?
And if-Monday-never-had-to-come—-
When you have forgotten that, I say,
And how you swore, if somebody beeped the bell,
And how my heart played hopscotch if the telephone rang;
And how we finally went in to Sunday dinner,
That is to say, went across the front room floor to the ink-spotted table in the southwest corner
To Sunday dinner, which was always chicken and noodles
Or chicken and rice
And salad and rye bread and tea
And chocolate chip cookies—–
I say, when you have forgotten that,
When you have forgotten my little presentiment
That the war would be over before they got to you;
And how we finally undressed and whipped out the light and flowed into bed,
And lay loose-limbed for a moment in the week-end
Bright bedclothes,
Then gently folded into each other—–
When you have, I say, forgotten all that,
Then you may tell,
Then I may believe
You have forgotten me well.
Original 1967 broadside of "Letter from a Wife"
with many thanks to Associate Librarian Pat Higo and the Dudley Randall Broadside Press special collection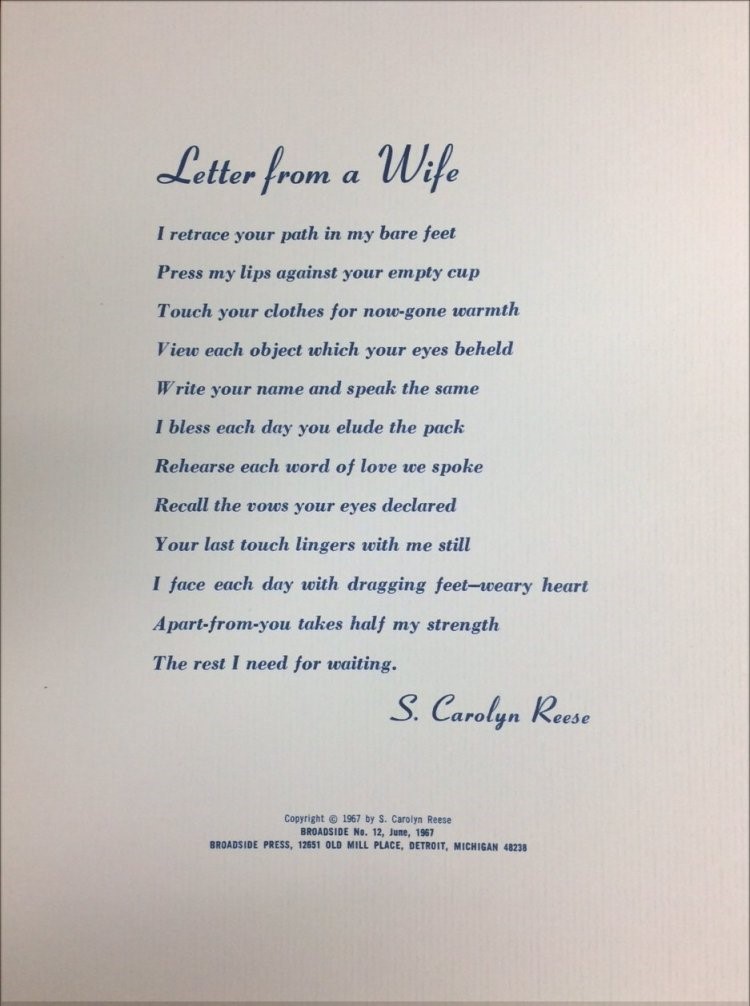 Rosemary Weatherston, Ph.D.
Associate Professor of English
Director, Women's & Gender Studies Program
Director, Dudley Randall Center for Print Culture