Monday  May 1  – " . . .  so the weapons sleep
beneath the dust . . . ."
I met the poet Dunya Mikhail when another poet and life-long friend Joy Harjo, read and performed at The University of Michigan early March.  We posted one of Dunya's poems, "I Was in a Hurry" on March 13.  These past weeks meet so many of us with the threats of war and violence that the Three Holy Days leading to Easter sometimes opened the congregations where I worshipped (Gesu Parish across McNichols Road from the University and the University's chapel) into an eloquent lament for our wounded world and music alive with the longing for a healing of those wounds.
That is probably why Dunya Mikhail came to mind this morning.  She emigrated to Detroit's Chaldean community from her birth country, Iraq.  Today's poem, lyrical about violent realities brings a realism that invites wonder and courage to accompany grief and moral fatigue.
Best to read aloud, with pauses.
Have a blest Monday,
john st sj
Today's Post   –  "Another Planet"
I have a special ticket
to another planet
beyond this Earth.
A comfortable world, and beautiful:
a world without much smoke,
not too hot
and not too cold.
The creatures
are gentler there,
and the governments
have no secrets.
The police are nonexistent:
there are no problems
and no fights.
And the schools
don't exhaust their students
with too much work
for history has yet to start
and there's no geography
and no other languages.
And even better:
the war
has left its "r" behind
and turned into love,
so the weapons sleep
beneath the dust,
and the planes pass by
without shelling the cities,
and the boats
look like smiles
on the water.
All things
are peaceful
and kind
on the other planet
beyond this Earth.
But still I hesitate
to go alone.
Dunya Mikhail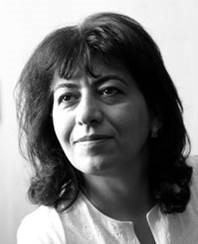 from The Iraqi Nights. Copyright © 2013 by Dunya Mikhail.
Reprinted by permission of New Directions Publishing Corporation.
https://en.wikipedia.org/wiki/Dunya_Mikhail