Wednesday, November 29 —  close the semester's  finish line.
What do we want to tell students as they bring this semester in for a landing with final papers and exams?  — These fifteen weeks  demanded work, and patience, mistakes and starting over again, but sweat equity moments  can be magic,  turning plodding into dancing, turning hope into joy.
Poet W H Auden reminds his readers that, when we risk hope and pay attention,  the labor can take us to a date with Love.    "It's worth it" —  that's the core promise of a university.
Best to read Auden out loud, with pauses.    Have a blest day.
john sj
Today's Post
The chimney sweepers
Wash their faces and forget to wash the neck;
The lighthouse keepers
Let the lamps go out and leave the ships to wreck;
The prosperous baker
Leaves the rolls in hundreds in the oven to burn;
The undertaker
Pins a small note on the coffin saying "Wait till I return,
"I've got a date with Love."
And deep-sea divers
Cut their boots off and come bubbling to the top,
And engine-drivers
Bring expresses in the tunnel to a stop;
The village rector
Dashes down the side-aisle half-way through a psalm;
The sanitary inspector
Runs off with the cover of the cesspool on his arm —
To keep his date with Love.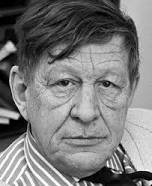 w h auden
(February 1908 – September 1973)
(https://en.wikipedia.org/wiki/W._H._Auden)