February 8, 2018 –   "nobody, not even the rain, has such small hands."
e e cummings would have objected to my world view on just about every count, as I would his.  Which demonstrates to me that great poetry connects people, even across chasms, through its sheer ability to bring some place of the human condition to life.  Here's my all-time favorite love poem, last posted on this list Friday September 5, 2015.   I don't know why e e caught my attention tonight;  perhaps because this past week the world has worn on me and because these past two days I've been loving time to sleep in and walk slowly,   It doesn't matter.  "Somewhere" is always worth reading.
Try it out loud and leave some time when you've finished  to pause and breathe.
Have a good end to the work week.
john sj
p.s. Am I posting the day after Wednesday to make up for missing a post for Monday?  Or just because I came across this amazing poem while browsing in the Poetry Archive Blog last night?   Yes.
(All poem posts are available at:  https://sites.udmercy.edu/poetry)
Today's Post:  e e cummings  –  "Somewhere"
Somewhere i have never travelled, gladly beyond
any experience, your eyes have their silence:
in your most frail gesture are things which enclose me,
or which i cannot touch because they are too near
your slightest look easily will unclose me
though i have closed myself as fingers,
you open always petal by petal myself as Spring opens
(touching skilfully, mysteriously) her first rose
or if your wish be to close me, i and
my life will shut very beautifully, suddenly,
as when the heart of this flower imagines
the snow carefully everywhere descending;
nothing which we are to perceive in this world equals
the power of your intense fragility: whose texture
compels me with the color of its countries,
rendering death and forever with each breathing
(i do not know what it is about you that closes
and opens; only something in me understands
the voice of your eyes is deeper than all roses)
nobody, not even the rain, has such small hands
e e cummings
e e cummings 1953
https://en.wikipedia.org/wiki/E._E._Cummings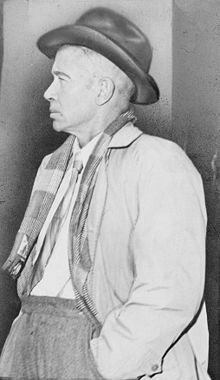 p.s.       A reader of the ee love poem wrote this story and sent it to the Work Day/Hard Times list.
Sunday, long line at CVS and a woman got in line behind me. Her clothes were shabby; she had two black eyes and a banged up face. She looked angry – perhaps in pain. I don't know if she fell off her bike or her paramour had beat her up. I offered her my place in line –said I forgot something that I wanted elsewhere in the store.  She responded rather sharply. "You don't need to do nuthin for me!"  Me: "OK, I'll leave the cart here, but if you feel like you want to go around it, no problem."  I walked to the freezer to get my Skinny Cow ice cream bars…brought them back, the line hadn't moved, and she was still there.  She looked at the box and mumbled, "What are those?" and I told her how chocolaty and sweet they were for 100 calories but it didn't matter because I'd probably consume 300 of the calories before day's end. And she snickered a little and started talking – girl talk – and we chatted about our useless coupons, and where the best deals are on makeup, and how much our pills cost us, and rolled our eyes and looked at each other when a couple people had only a 4 cent co-pay and we knew ours were going to be higher.  We parted smiling like long-time buddies.
My point is that the poem you posted reminded me of the constant presence of the Holy Spirit always in us, silently walking in us, bringing us to love and life…In a visible way the Holy Spirit filled that bedraggled lady and brought her to delight in life if only for a few  minutes with "girl talk."  OK, we were chatty, unlike the poem's message, but the unspoken shouted "You are not alone. You have value. You have dignity. You are loved." My prayer is that the Spirit continues to manifest itself within her.