Wednesday, February 14
Once again, a friend sent me a poem.  The poet, Linda Paston, writes of delicate surprises that run deeper than first notice suggests.    Her sensual remembering of an eight year old daughter  when she dares to ride too fast for Mom, opening Mom to wonder, can open us readers also, into one of the many valences of love between two human beings.
Best to read the poem out loud, with pauses.   Have a blest day.
john sj
Today' Post  Linda Paston   (https://en.wikipedia.org/wiki/Linda_Pastan)
To A Daughter Leaving Home –
When I taught you
at eight to ride
a bicycle, loping along
beside you
as you wobbled away
on two round wheels,
my own mouth rounding
in surprise when you pulled
ahead down the curved
path of the park,
I kept waiting
for the thud
of your crash as I
sprinted to catch up,
while you grew
smaller, more breakable
with distance,
pumping, pumping
for your life, screaming
with laughter,
the hair flapping
behind you like a
handkerchief waving
goodbye.
Footnote:   Today is also Ash Wednesday in the Christian tradition, the beginning of Lent.  "Lent" suggests that people living in our northern climate chose this Anglo-Saxon word.  "Lent" means "Spring" in Anglo-Saxon.  In the climate where our city and university live, "Lent" can remind me that growing things — shrubs, trees, grass can look like they are dead when the 40 days begin.   It takes a long time, with patient attention, until they prove to us that they've been alive after all.   Some people choose a twig on a branch somewhere along their ordinary path, to pause very near the twig, standing vigil week after week, letting the twig surprise them in slow motion.
p.s. Easter this year is April 1,  April Fool's Day.   Enjoy these weeks.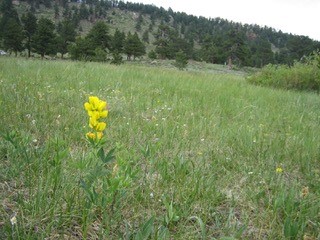 a meadow in Rocky Mountain National Park