Tuesday November 13   "Now is the time to sit quiet"
Back from my annual Jesuit retreat, on the border between southern Massachusetts and northern Connecticut.  Breathing time and time for stillness & beauty.   The Work Day/Hard Time poetry posts took the time to refresh its imagination too.
Rabindranath Tagore's Gitanjali # 5  reminds me  why stillness and  beauty and unhurried breathing can restore me body and imagination and spirit.   Have a blest day.
Blessings,
john st sj
Today's Post   
I ask for a moment's indulgence to sit by thy side,
The works that I have in hand
I will finish afterwards.
Away from the sight of thy face
my heart knows no rest nor respite,
and my work becomes an endless toil
in a shoreless sea of toil.
Now is the time to sit quiet,
face to face with thee
and to sing dedication of life
in this silent and overflowing leisure.
Tagore 5
Rabindranath Tagore  –   রবীন্দ্রনাথ ঠাকুর
May 1861  – August 1941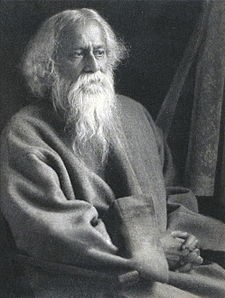 A serious November snow — November 22, 2015