Wednesday, November 21 —  last day before U.S. Thanksgiving
This delicate and demanding Hopkins poem is beautiful; these days of less and lesser sun make  a sweet time for Gerard Manley Hopkins' brilliant, understated poem about soft paced sorrow, and beauty, and the griefs of 2018, another year that, with its gusts of wind and chilly temperatures,  salutes its ending days.
However, not every day is gloomy, not by a long shot.  Here's a look at morning sun rising above our snow dusted courtyard.  That the rising sun pours into my west window — after months when the late afternoon light showed off the glory of summer days — reminds us that these are shorter days (today's Detroit: sunrise to sunset — 7:30 am – 5:05 pm; in Stockholm, home of Nina, one of my Swedish soul friends, the days are already much shorter, nearly 2.5 hours shorter — 7:55 am – 3:10 pm).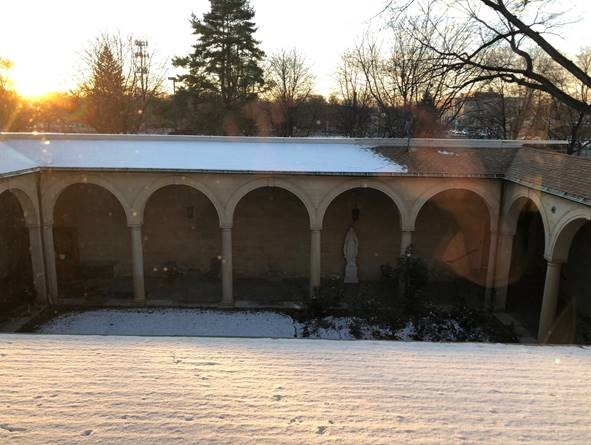 Morning sun rising
                                                      November 20, 2018
Have a blest day,
john st sj
Today's Post "Spring and Fall"
to a young child
Márgarét, áre you gríeving
Over Goldengrove unleaving?
Leáves like the things of man, you
With your fresh thoughts care for, can you?
Ah! ás the heart grows older
It will come to such sights colder
By and by, nor spare a sigh
Though worlds of wanwood leafmeal lie;
And yet you wíll weep and know why.
Now no matter, child, the name:
Sórrow's spríngs áre the same.
Nor mouth had, no nor mind, expressed
What heart heard of, ghost guessed:
It ís the blight man was born for,
It is Margaret you mourn for.
For an audio version, please visit: https://www.poetryfoundation.org/poems/44400/spring-and-fall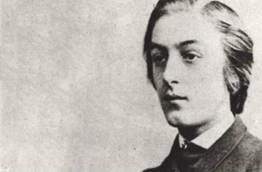 1844 – 1889
G.M. Hopkins Bio: https://en.wikipedia.org/wiki/Gerard_Manley_Hopkins