Wednesday, February 13, 2019   "There will be daffodils in the Back Bay"
view from my Detroit window – December 2007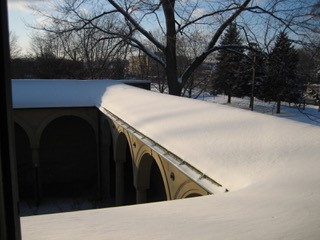 Boston is my second city, after Motown. I've lived there 7 different times, whole years and half years, at MIT and Boston College. The city is dear to me, dear with familiar urban mazeways (like where to get my car fixed, my hair cut, my teeth tended, smart ways to avoid heavy traffic if you can manage it), how to plan contemplative times beside the sailboat basin of the Charles, whether to walk from my Jesuit house in the Back Bay over the Mass Ave or the Longfellow bridge. All those years have connected me with soul friends.
This week's tedious patch of winter is more real and sensual because both cities are slogging through sleet and the ice it leaves behind. Winter fatigue and soul friends whose years of kinship help me to take in a Detroit Mercy facilities man who, scooping ice on the walk outside our administration building yesterday morning, lest I slip on more treacherous ice than we've seen in a while, tells me that his first salt run was c. 4:30 am.  He confessed as we crossed paths that he was "ready for this to be over!"   I responded that February ice and sleet have a graceful aesthetic purpose;  our fatigue begins to whet our appetite for green grass and daffodils. Whole cities collectively are-learning to long for spring.  Yesterday, an idea for today's post snuck up on me. I am posting a playful poem I wrote one April afternoon in 1983 while walking across the Mass Ave Bridge into Newbury St. heading home after a work day at MIT.  Is the poem whimsy, or a reminder, or a promise, or a blessing?  Doesn't matter.   All of the above.
May we each have three good surprises before the end of work today.
john sj
Today's Post — Meeting at Rush Hour
A gust of wind
sent the metal street sign for Charlie's Tavern
skittering fifteen feet up Newbury Street, an unlikely sailboat
escaped, perhaps, from the Charles.
The clatter and improbability
set us both free.
She looked twenty two,
blond and lovely,
going the other way
and no doubt equally homeward bound.
In our sudden bemusement
at the sign's startled venture
our eyes touched.
Then, the wonder.
We grinned.
Delight at our moment's kinship
freed us from fear
from strategy and burden.
She flashed fire at me
and I, no doubt, at her.
A moment's celebration quickly passed–
rare and winsome beauty,
breathed through two human forms
filling us with awe.
We went our ways with no word spoken,
both journeys blessed.
April 20, 1983
Dawn outside our front door – March 8, 2007