Monday,  February 18
Why, I wonder this morning, have I never posted one of Wendell Berry's poems?   He has written great and supple poetry since, at least, the early 1960s, poems and novels and essays about the land and the place of humans in relationship with the land.   Betsy Linehan, RSM, a friend and university trustee, sent me her favorite W. Berry poem.   A fine beginning to this 2nd last week in February.   It's brief; and, yes, it's best to read it out loud with pauses.
Our campus this morning shows off what a steady light snowfall can do for the land and streets and buildings if you give it 7 or 8 hours to work its magic.
Have a blest day.
john sj
Today's Post – –  Wendell Berry
It may be that when we no longer know what to do
we have come to our real work,
and that when we no longer know which way to go
we have come to our real journey.
The mind that is not baffled is not employed.
The impeded stream is the one that sings.
Wendell Berry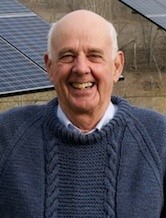 Wendell Erdman Berry (born August 5, 1934) is an American novelist, poet, essayist, environmental activist, cultural critic, and farmer. He is an elected member of the Fellowship of Southern Writers, a recipient of The National Humanities Medal, and the Jefferson Lecturer for 2012. He is also a 2013 Fellow of The American Academy of Arts and Sciences. Berry was named the recipient of the 2013 Richard C. Holbrooke Distinguished Achievement Award. On January 28, 2015, he became the first living writer to be inducted into the Kentucky Writers Hall of Fame.
On July 4, 1965, Berry, his wife, and his two children moved to a farm that he had purchased, Lane's Landing, and began growing corn and small grains on what eventually became a homestead of about 117 acres (0.47 km). They bought their first flock of seven Border Cheviot sheep in 1978. Lane's Landing is in Henry County, Kentucky in north central Kentucky near Port Royal, and his parents' birthplaces, and is on the western bank of the Kentucky River, not far from where it flows into the Ohio River. Berry has farmed, resided, and written at Lane's Landing ever since. He has written about his early experiences on the land and about his decision to return to it in essays such as "The Long-Legged House" and "A Native Hill."