Wednesday, March 27, 2019
"something
you already had
And set it down in
A new place."
This week, at least in my part of the university, feels like some settling in after 3 weeks of hammer-slammer multi-tasking.   It reminds me of a short-form prayer I have shared for many years with a soul friend.   Every so often, when the intuition catches my attention,  I text my friend this short message:  "have you breathed yet today?"     "Breathing" in this context works like this:  you stop where you are (i.e., stop walking to a next task;  you straighten your shoulders and stand tall;  you draw in a slow deep breath, filling your lungs;  you release the deep breath).  You imagine that this ritual has created a place of stillness where you can hear the sound of a tree or the grass around you as they grow. Within that stillness, you make a commitment: "I love my life, exactly as it is now, with nothing changed."   You go on your way again.
Naomi Shihab Nye's poem feels just like that prayer.   Have a blest day.
john sj
Today's Post   "Fresh"  Naomi Shihab Nye
"Fresh"
To move
Cleanly.
Needing to be
Nowhere else.
Wanting nothing
From any store.
To lift something
You already had
And set it down in
A new place.
Awakened eye
Seeing freshly.
What does that do to
The old blood moving through
Its channels?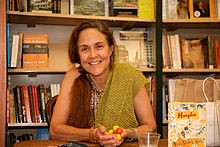 Naomi Shihab Nye
b. March 12, 1952 (age 66)