Wednesday, September 25  –
". . . not because mind and memory
falter, but . . . "
Yesterday's  airport shuttle driver observed that Denver weather "has a touch of autumn today":  a chilly, breath-taking mid-week during a board meeting that arrives just after I said my goodbye to Pine Ridge and 3 weeks with Lakota soul friends of a half century. Over and over, the three  3 weeks came alive with inner moments when what I have come to call, "sensual memories speaking to me"  reminded me of what St. Ignatius might call deep personal sounds, smells, tastes, and touches opening day-to-day events to past well springs of memory and present moments of stillness.   No wonder, when I drove away from Pine Ridge on Monday, I prayed from awe and sadness and wonder .
There is, though, more on offer than c 350 mile of  cross-prairie driving singing my Pine Ridge  good-byes .  Today one of Denise Levertov's poems reminded me that late September & early October, includes two important marriages.   One I have known all my life and one from a friendship of two decades.  Mt parents chose their 1935 wedding day to complete the week of both their birthdays (Dad on September 21;  Mom on September 25, their anniversary on September 28).  Then too, Dad died October 12, 1970 and Mom died 25 years and one week later.    Barbara Shaffer, a more recent family friend, now grieves her husband of 58 years (Bill Shaffer, a Vet and a member of the UAW) who died one day before my dad's anniversary.    Their daughter Sarah, a University of Detroit Mercy graduate is also a soul friend linked with Pine Ridge.   Now is a peer counselor in San Francisco for Vets who suffer from PTSD.     Here's a poem for both marriages that warrants listening to and reading out loud with pauses, "In Love," from Denise Levertov's Evening Train.  
Some poems look out onto vast realities;  some open into intimate, enduring, resonant love.  That's today's "In Love."  A university engages many sorts of reality.  That's what we do here.
Yes, best to read this several times,  out loud with pauses.
Have a blest mid-week  Friday in this late September.    Crisp autumn sun and wind gusts;  the sun rides lower in the heavens each day all the way til December's Solstice.
john sj
Today's Post   "In Love"
Over gin and tonic (an unusual treat) the ancient poet
haltingly —            not because mind and memory
falter, but because language, now,
weary from so many years
of intense partnership,
comes stiffly to her summons,
with unsure footing —
recounts, for the first time in my hearing, each step
of that graceful sarabande, her husband's
last days, last minutes, fifteen years ago.
She files her belongings freestyle, jumbled
in plastic bags — poems, old letters, ribbons,
old socks, an empty picture frame;
but keeps her fifty years of marriage wrapped, flawless,
in something we sense and almost see —
diaphanous as those saris one can pass through a wedding ring.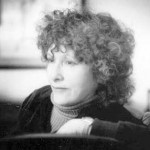 Denise Levertov  1923 – 1997
first Posted on October 19, 2015