Friday, January 3  —  two poems written by Mary Tobacco, my soul friend for years; one about coaching a promising young man;  one a birthday poem Mary wrote to me
Post # 1  "a note to a high school boy's basketball coach"
he is good young man,
yes, his grades aren't the best, yet.
sure, he is skinny
but, why not give him a chance?
maybe, an opportunity?
help me keep him going in the right direction,
use your influence to motivate him
coaches don't just choose the obviously best kids that come already made
great coaches recognize potential and bring it out
* * * *              * * * *              * * * *
Post # 2   "you are my dad,  I know what it means because of you and it doesn't mean I love him any less
                                    my dad wouldn't mind
                                    he would be thankful."   [Steve Tobacco died in 1968 in a car accident when Mary was c. 1/2 year old.]
Mary has a record of understanding how to coach Rez children on their way toward maturity as basketball players, and maturity as emerging adults who can live their ways toward a strong and graceful adult presence in their worlds.   She wrote the second poem for my 80th birthday.
you told me a lot of stories and I like hearing them, including the hard ones
it bothers me that that guy hit you with a buckle
it bothers me that the school didn't support you
but, I like that you didn't let it keep you away from the rez, away from mom
you came back anyway and all of the good you've done!
and the kids are safe, and they're doing so well  (Legend needs something more, but he's trying and we'll keep working on it)
what you do is important and the stories are important
all of those memories are to be shared
and, you're still creating memories!
like, coming to the rez and sitting by Black Elk, visiting J. Sheehan and being greeted by a meadowlark on a perfectly beautiful day in Manderson, SD
and I don't mind if you call me your daughter
you are my dad, I know what it means because of you and it doesn't mean I love him any less
my dad wouldn't mind
he would be thankful
and mom would love it
she would be the most happy
have a good day!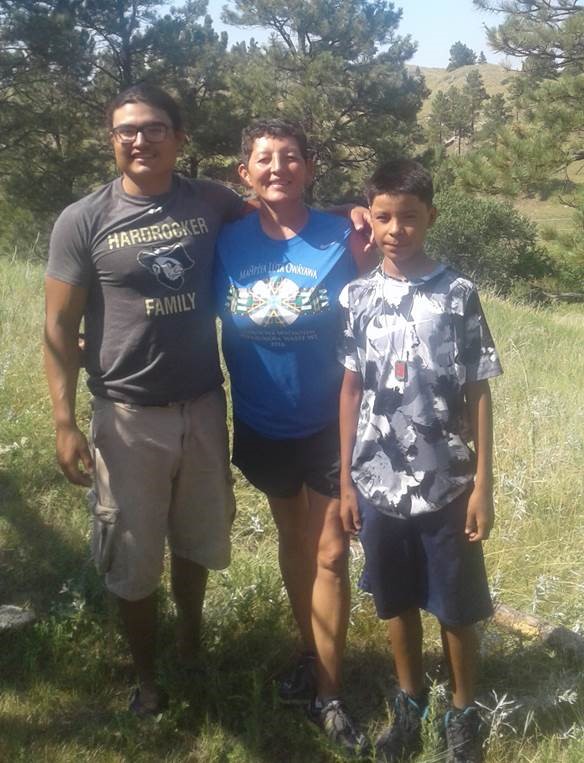 Mary with two of her kids