Wednesday April 1, 2020 – 
"When children have access to books their world expands."  Mary-Catherine Harrison
During these weeks as the world's Pandemic grips our inner attention, weeks marked by quarantine protocols and exploding infection rates, April has arrived in our living places.  Here in Detroit one of our educational traditions might expand our imaginations.  The children in the photos woke my imagination and stirred gratitude for the years of work that Dr. Mary-Catherine Harrison, Chair of our English and Writing program has dedicated to encouraging children to take books home and to form a habit of reading.   Today's post is dedicated to the thousands of children's books which transform the lives of little people in our neighborhoods.
have a blest mid-week.
john sj
Preface, April 22 2015:  "Our guest editor for today is associate professor of English and Director of RX for Reading Detroit Mary-Catherine Harrison.  She calls attention to the celebration tomorrow afternoon of a birth.  In the Gesu School playground, just across McNichols from UDM's campus, what looks like a large bird house or mailbox will be publicly welcomed into the neighborhood.  It carries books for young children rather than birds or letters.  This cooperation between UDM faculty and staff with children in Gesu School is as beautiful as the new book box.  Makes me proud that our Work Day list can be part of it."
Have a good day.
john st sj
Today's Post –  Mary-Catherine Harrison
April 2015 – –  RX for Reading works to expand access to children's books in Detroit and support families in reading with their children.  Over the 2014-2015 school year, they have distributed 5,000 new and gently used books to kids and community partners in the city, and UDM students have read with children at Emmanuel Head Start, Peggy's Place Head Start, Bright Beginnings Childcare at COTS, and Gesu Elementary School. You can read more about their work at the RX for Reading website.  This post, "What Happens When College Students and Preschoolers Read Together?," talks about the RX for Reading partnership between UDM undergraduates and the preschoolers at Emmanuel Head Start.
Tomorrow (4/23/2015) at 3:00, University of Detroit Mercy will host a campus and community celebration to launch the new RX for Reading Detroit Little Free Library in the Gesu Community Green.  Supported by a UDM Mission Micro Grant, the Little Free Library was built by Emilie Wetherington, Director of UDM's Student Success Center, and her husband Terry Wetherington.  RX for Reading Detroit will keep the library stocked with books to be enjoyed by all children in the neighborhood.  Members of the UDM community are invited to the "bookies and cookies" themed party, along with the kindergarten, 1st, and 2nd grades at Gesu Elementary School.  Gesu Community Green is across the street from UDM at McNichols and Oak Street.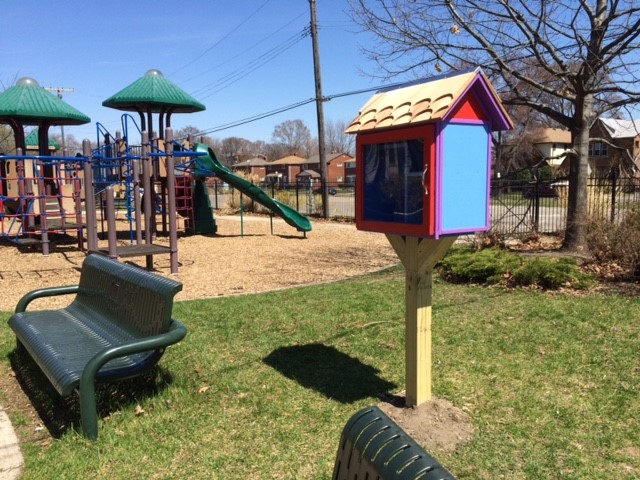 As a literary critic, I have spent much of my career considering what literature does in the world, how it affects readers' emotional states, our beliefs and behaviors, our commitments.
Since starting RX for Reading, I have thought even more about what reading offers.  Reading proficiently by the third grade is the single greatest predictor of high school graduation and a successful career.  In Michigan, only 19% of low-income children are reaching this benchmark.  Young people with low literacy skills are at greater risk of incarceration and poor health outcomes.  Their children and their children's children are more likely to live in poverty.  Reading is opportunity.  Reading is the foundation of equality.
When children have access to books their world expands.  Literature functions as both a window and a mirror.  It allows us to see and understand lives different than our own; it reflects our own life in a way that makes us understand our experience more fully.
Literature takes us places. When we lose ourselves in a book, we are transported to those scenes; we experience events as if we were present for them and we imagine ourselves in the place of characters in that world.  Scholars call this phenomenon narrative transportation.  Emily Dickinson understood it well.
There is no Frigate like a Book (1286) – Emily Dickinson
There is no Frigate like a Book
To take us Lands away
Nor any Coursers like a Page
Of prancing Poetry –
This Traverse may the poorest take
Without oppress of Toll –
How frugal is the Chariot
That bears the Human Soul –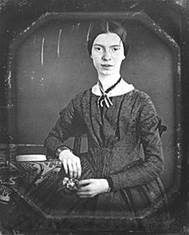 Emily Dickenson 1830 – 1886
RX for Reading Detroit—Raising Readers, One Book at a Time
Read more about our work:
http://rxreading.org/
Follow us on Facebook or Twitter:
https://www.facebook.com/rxreading
https://twitter.com/rxreading