Dom Helder Camera's voice and eyes "a good traveler cares for weary companions"
"… but we know the journey is human life and life needs company.
Companion is the one who eats the same bread."
Posted on March 20, 2020, 1st day of Daylight Savings Time  —  (n.b.,  recent research finds that the first full Monday of Daylight Savings typically registers a 6 – 7 % spike in traffic accidents  – –  )
Sheer beauty can look inadequate for repairing violent storm damage, such as COVID-19, our new global visitor.  But I doubt it.  The work of beauty is to remind us that deep down, under the exhausting burdens of our adult commitments, lives a wellspring of grace.
Dom Helder Camera, Fortaleza, Ceará, Northeast Region of Brazil –February 7, 1909 – August 27, 1999:  He was archbishop of Recife and Olinda Brazil from 1964 to 1985 during a severe military dictatorship.  He interpreted Catholic teaching with a consistent, fierce attention to the violence of systems that maintain brutal poverty.  Not surprisingly, he made serious enemies who worked to silence him.   It is said that some of Dom Helder's enemies hired a hitman to assassinate him.  Like the professional he was, the hitman stalked the archbishop for some time, learning his habits, seeking a place and time most apt for killing.   In the process, he listened to Dom Helder Camera speak a number of times until, one day, he fell at his feet, weeping, and begged for the grace to change his profession and his life.
Dom Helder's unblinking attention to the violence of poverty was matched by legendary playfulness.  Here is one story among many; this one I witnessed.  Once Dom Helder was speaking to about 1,500 people who sat on the St. Louis levee overlooking the Mississippi River (by the Arch). In the middle of his talk, a helicopter took off right behind him filled with tourists taking a ride for a bird's eye view of the river and the city.   It made so much racket that it was impossible to hear what the Dom Helder was saying.  He paused, and turned around toward the helicopter which flew at that moment just above him, and offered the helicopter pilot and the tourists a puckish little wave.  When the helicopter got a little farther out on its trip, he turned back to us and blew our minds as we listened.
This Monday in March, my Lakota daughter Mary Tobacco reminds me that even snow, rain, and mud following last night's heavy snow can be beautiful.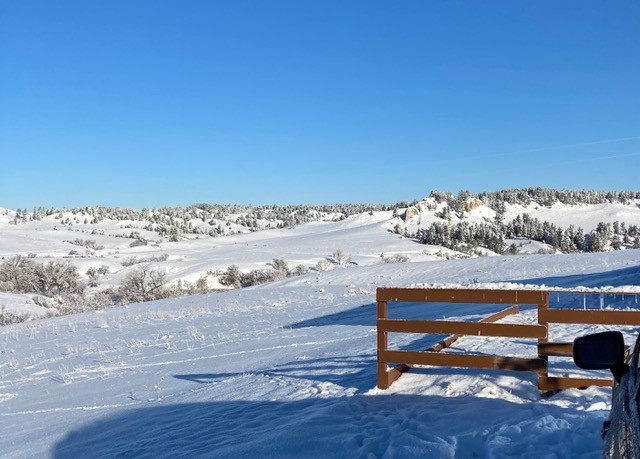 Photo from Mary Tobacco's home after yesterday's snow
Have a blest day,
john sj
p.s.      Here's my favorite DH photo.  Alas, I've never found one of him waving to the helicopter.
Today's Post-  a saying of Dom Helder
"It is possible to travel alone, but we know the journey is human life
and life needs company.
Companion is the one who eats the same bread.
The good traveler cares for weary companions, grieves when we lose heart,
takes us where she finds us,  listens to us.
Intelligently, gently, above all lovingly, we encourage each other to go on
and recover our joy
On the  journey."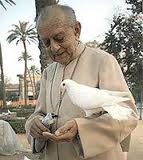 Dom Helder Camera