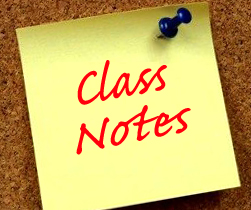 Have you recently been promoted, honored or published? Have you switched employers or career paths? Share the news with fellow Detroit Mercy alumni, parents, friends, faculty and staff.
Send your Class Notes to alumni@udmercy.edu.
1960s
Edward Callaghan '68 was reappointed by Mich. Gov. Rick Snyder to the Michigan Employment Relations Commission for a two-year term. He is an adjunct business faculty member for Oakland Community College.
Detroit trial lawyer Fred Lauck '65, '69 chronicles the legal landscape of Detroit over from the 1900s to today in his book "The Fightin' Irish of Detroi: Fightin' in the Streets…Fightin' in the Courts (An American Story).
1970s
The Hon. Martha Anderson '77 was reappointed to the Community Corrections Board by Mich. Gov. Rick Snyder. The 13-member board serves in  an advisory role to the director of the Michigan Department of Corrections and is charged with making suggestions to improve community corrections programs in the state.
C. Leslie Banas '73 joined the Troy, Mich.-based Kemp Klein Law Firm as a shareholder.
James Borchard '76 has been appointed to the Commission on Community Action and Economic Opportunity by Mich. Gov. Rick Snyder. The 12-member commission is charged with reducing the causes, conditions and effects of poverty and promoting social and economic opportunities that foster self-sufficiency for low-income people.
Philadelphia-based Cozen O'Connor named Vincent Candiello '78 a trial lawyer and labor relations negotiator in the firm's labor and employment department.
The Hon. Maura D. Corrigan '73 has joined the law firm Butzel Long as counsel. She will concentrate her practice in litigation and appeals.
Eric Hespenheide '75 has been appointed chairman of the GRI Board of Directors, an independent international organization that has pioneered sustainability reporting since 1997.
Julie Hyer O.P. '75, '79 was appointed to the board of directors for Janus of Santa Cruz, the county's leading provider of substance use disorder treatment services.
Rodney D. Hyduk, D.D.S., M.S.D. '74, was recently honored for 40 years of service on the medical staff at William Beaumont Hospital, Troy.
Marlin Equity Partners and Tellabs board of directors have appointed James D. Norrod '75 president and chief executive officer of tellabs, a Dallas -based software and networking company.
Frank Podsadlo '75, '78 recently retired after working for 25 years at Henry Ford Museum and Greenfield Village.
Donald G. Rockwell '76 was elected president of the State Bar of Michigan. He is founder of Mill Rockwell, P.C. in Flint and is university counsel for Kettering University.
Michigan Gov. Rick Snyder has appointed Oussama A. Siblani '79, publisher of the Arab American News, to the State Officers Compensation Commission. The board recommends changes to the salaries and expense allowances of members of the state's executive branch.
Mich. Gov. Rick Snyder has reappointed Ola Smith '79 to the State Board of Accountancy, which oversees licensureand certification requirements for certified public accountants and public accounting firms. She is a professor and department chair at Western Michigan University.
Kathryn Usitalo '76 has published her first solo book, "100 Things to Do in the Upper Peninsula Before You Die" and runs the Michigan travel website GreatLakesGazette.com.
David Williams '79, '82 was named the 2017 Tennessean of the Year by the Tennessee Tribune. He is the vice chancellor for athletics and University Affairs and Athletics Director at Vanderbilt University.
1980s
Genelle M. Allen '85 was elected interim CEO of the Wayne County Airport Authority while the board seeks a new CEO.
The Hon. Marilyn E. Atkins '80 has written her autobiography, "The Triumph of Rosemary: A Memoir."
Jeffry M. Bauer '80 has been promoted to IT End User Support Regional Volunteer Partner at the Red Cross in Detroit.
Kevin H. Byrnes '83 was named communications director of the city of Birmingham, Mich.
Timothy R. Damschroder '88 was reappointed to the Health Endowment Fund Board by Mich. Gov. Rick Snyder. The board promotes health programming throughout the state for children and seniors. He is a partner at the Detroit-based firm Bodman PLC.
Lori (Smith) Glenn, BSN, DNP '87, '12 was ppointed to the Michigan Board of Nursing by Mich. Gov. Rick Snyder. The 24-member board establishes qualifications for nurse licensure, approves standards for nursing education programs and handles disciplinary matters. She is a certified nurse midwife at Mid-Michigan Midwifery.
Theresa (Curmi) Joswick '85 was named to the list of Best Lawyers in America for Employee Benefits law. She is an attorney with Dawda, Mann, Mulcahy & Sadler, PLC in Birmingham, Mich.
Sulyman A. Kareem '80 has been named vice chancelor of the University of Ilorin in Nigeria. He is also a professor in the school's Depertment of Chemical Engineering.
James E. Lievois '82 was named executive vice president for Mazda North American Operations. He will continue to serve as chief financial officer.
Faser Trebilcock has named corporate and real estate attorney Norbert T. Madison '81 to the firm's Detroit office.
Patricia A. McKanic '80 has published her first novel, a murder mystery titled Illusions of Paradise.
The MotorCities National Heritage Area has hired Bob Sadler '88 as its new communications manager.
Lillian G. Stenfeldt '80 has been named partner of the Rimon Law firm in the firm's San Francisco and Silicon Valley offices.
Tom Szezepanski '85 was named chief operating officer of Detroit Public Television.
The Hon. Tracey A. Yokich '85 was elected president of the Michigan Judges Association and will serve a one year term.
1990s
Michelle L. Alamo '99 has been reappointed chair of Defense Research Institute's Intellectual Property Litigation Committee. She is a member of Dickinson Wright PLLC's Detroit office.
David Claeys '99, '03 was named president of Beaumont Hospital, Dearborn.
Michelle (Esperance) Donovan '91, a partner at the Detroit-based law firm Plunkett Cooney, was recently appointed to the position of Macomb County Public Administrator.
Jennifer A. Dukarski '96 earned the distinction of the Institute of Electrical and Electronics engineers Senior member status, the highest grade for which IEEE members can apply. She is a partner in the Detroit-based law firm Butzel Long.
Michelle Johnson-Tidjani '98 has been appointed senior vice president and general counsel for Henry Ford Health Systems.
Illinois-based auto parts manufacturer Navistar International Corp. named Josef S. Kory '94 senior vice president of Parts.
Virginia (Yatooma) Krolczyk '97 has published a book on transitioning from high school to college titled Student Capital: Investing in Students and their Needs.
Donald J. Lee '91 has joined Chief Outsiders, a management consulting firm providing on-demand or fractional chief marketing officers to mid-sized and growth companies.
Kimberly A. Lowe '93 has founded Avisen Legal P.A., a business law firm in Minneapolis, Minn.
Scott MacGriff '96 has been named chairman of the Government Procurement Subcommittee of the International Bar Association. He is a member of Dickinson Wright PLLC's Washington, D.C. office.
Robert G. McNeill, D.D.S. '99 has bee appointed by Texas Gov. Greg Abbott to the Texas State Board of Dental Examiners, a board that regulates the practice of dentistry and dental hygiene in the state.
Eric R. Ray '93 has been appointed senior executive vice president for Technology and Transaction Services of Radian Group Inc., a Philadelphia-based private mortgage and real estate services provider.
George T. Schooff '91 has joined the Detroit office of the law firm Butzel Long, where he will specialize in intellectual property law.
Mary Ann (Robb) Victor '94 was appointed to the Michigan Board of Pharmacy, which is responsible for regulating and inspecting the practice of pharmacy and drugs manufactured and distributed in the state. She is president of MAV Associates, LLC.
John R. Ward '95 has been named interim dean of the College of Education at Kutztown University in Pennsylvania.
2000s
David J. Bartolovic, D.D.S. '00 has joined Holly (Mich.) Dental Care as a prosthodontic specialist.
Paul Burkett '06 has been hired as a paralegal by the Detroit law firm Kerr Russell.
Josephine DeLorenzo '08 was named a shareholder at the Detroit-based law firm Plunkett Cooney.
Sarah (Jaeger) Dorow '08, '11 has joined the NBC25/Fox66 news team in Flint, Mich., as a reporter.
Timothy Dunning '09 has joined Fradkin & Weber, P.A. in Maryland as an associate attorney.
Jela (Vaclavova) Ellefson '01 has been named vice president, Social Capital, in the Lansing, Mich.-based financial services firm Cinnaire.
Kevin D. Kijewski '03 was appointed superintendent of Catholic schools for the Archdiocese of Detroit by Archbishop Allen H. Vigneron.
Glenn P. O'Connor '01 was reappointed to the Board of Nursing for the state of Michigan by Gov. Rick Snyder. The board establishes qualifications for nurse licensure, approves standards for nurse education programs and takes disciplinary action against licensees when necessary.
Helen Hsu '07 has joined the West Palm Beach, Fla.-based law firm Kelley Kronenberg to handle matters related to Workers' Compensation defense.
Julianne (Cassin) Sharp '01, a partner with the Michigan law firm Jaffe Raitt Heuer & Weiss, P.C., has been named one of the state's 30 Women in Law for 2017 based on her commitment to the practice of law, accomplishments and dedication to volunteering and mentoring other attorneys. She is a member of the firm's immigration practice group.
Amy Winn-VanHoeck '00 is the new administrator for the Blue Water Bridge in Port Huron, Mich. She was appointed by the Michigan Department of Transportation.
Joe Vernon '05 was named the resident director of Miller Canfield's headquarters in Detroit.
2010s
Kyle T. Burleson '10 has been named interim executive director for the Detroit/Wayne County Port Authority.
Katrina Hardy '12 has joined Diplomat Pharmacy, Inc., in Flint, Mich. as corporate counsel.
Joseph R. Lazar '14 has joined the Ohio-based accounting firm The Siegfried Group, LLP.
Sam Mate '14 has joined the automotive liability practice group of Southfield, Mich.-based Collins Einhorn Farrell PC.
Brian K. Mitzel '16 has joined the tort and litigation practice group in the Bloomfield Hills office of Plunkett Cooney.
David A. Praet '11 has been named director of the Troy, Mich.-based investment firm Doeren Mayhew Capital Advisors.
Michigan Gov. Rick Snyder appointed Kristina L. Robinson '10 to the Michigan Indigent Defense Commission, which is designed to improve legal representation for low-income criminal defendants. Robinson is general counsel for the Wayne County Sheriff's Office.
Lauren D. Smith '11 has published the romance novel "An Earl by Any Other Name." She is an intellectual property lawyer in Tulsa, Okla.
James D. Stevens, Jr. '17 has joined Troy, Mich.-based law firm Reising Ethington P.C. as a patent attorney.
Lawyer honors
Crain's Detroit Business named the following alumnae to its list of Notable Women Lawyers in Michigan.
Sharon Almonrode '81, of the Rochester-based Miller Law Firm
Monica (Berkowski) Barbour '75, senior attorney and corporate secretary, University of Detroit Mercy
Assistant Attorney General Kelly Carter '96
Wayne County Corporation Counsel Zenna (Feraj) Elhasan '04
Michelle (Caty) Harrell '90, a partner in the Southfield-based firmMaddin, Hauser, Roth & Heller PC
Dani (Kurzman) Liblang '81, of Liblang & Associates in Birmingham
Kate McCarroll '98, of the Detroit firm Kerr Russell
Heidi (Kobler) Sharp '06, managing partner of Burgess Sharp and Golden in Clinton Township
Macie D.A. Tuiasosopo '13, of the Southfield-based firm Caine Tuiasosopo PLC