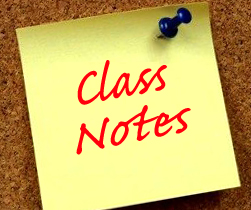 Have you recently been promoted, honored or published? Have you switched employers or career paths? Share the news with fellow Detroit Mercy alumni, parents, friends, faculty and staff.
Send your Class Notes to alumni@udmercy.edu.
1960s
John P. Jacobs '67, '70 was honored by the Michigan Defense Trial Counsel, which created a new annual award called the John P. Jacobs Appellate Advocacy Award for his many years of legal achievements in appellate litigation.
1970s
Andrew Brown, Jr. '79 has joined the board of directors of Milost Global, Inc., a private equity firm headquartered in New York City.
Michael W. Brunker '74 was honored with the Human Dignity Award by the YMCA of San Diego (Calif.) County. He is the executive director of the Jackie Robinson Family YMCA. The award is given to a person who exemplifies Dr. Martin Luther King, Jr.'s life and work.
Lisa Sommers Gretchko '79 of the Royal Oak, Mich.,-based firm of Howard and Howard Attorneys has been named to a two-year term as vice president of Publications for the American Bankruptcy Institute.
The Hon. Barry L. Howard '73 was appointed to the Municipal Stability Board of Michigan by Gov. Rick Snyder. Howard is of counsel to the law firm of Lipson, Neilson, Cole, Seltzer & Garin, P.C. in Bloomfield Township, Mich.
Noel W. Jackson, D.D.S. '79 was elected District Governor for the District 6400 Rotary, which includes 50 Rotary Clubs and 1,600 members in southeast Michigan and southwest Ontario. His term is from 2020-2021.
Bradley M. Simmons '79, '84 received the Distinguished Eagle Scout Award by the Boy Scouts organization in Detroit. He is director of Community Outreach for Ford Motor Co.
Leon L. Wyden, Jr. '79 was named Frostburg (Md.) State University's vice president of Administration and Finance.
1980s
Frequency Therapeutics, a Massachusetts-based biotechnology company, appointed Carl LeBel '80 to executive vice president of clinical development.
Valerie Harriel '83, '89 was named one of the top women in U.S. manufacturing for 2018 by the Manufacturing Institute in Chesapeake, Va. She is vice president of human resources for Volvo Penta of the Americas.
Michigan design firm Neumann/Smith Architecture has hired Leo Valentino Mendez, Jr. '88 as director of design.
The Southeast Michigan Council of Governments (SEMCOG) and the Metropolitan Affairs Coalition (MAC) appointed Nancy Susick '86 to serve on its newly formed Future Skills Task Force. Susick is president of Beaumont Health.
Julie Beth (Klein) Teicher '82 has joined the Southfield, Mich.-based law firm Maddin, Houser, Roth & Heller in the firm's creditor rights, bankruptcy and insolvency practice group.
Ronald Wilson '80 has been named director of the Veterans Welcome Home and Resource Center in Little River, S.C.
1990s
George S. Attia '95 has been named vice president, managing principal of AECOM's Detroit Buildings and Places business within its design and consulting services group. AECOM is a global infrastructure firm.
Bishop Cory J. Chavis '95 was appointed to Michigan's School Safety Task Force by Gov. Rick Snyder. Chavis is founder and senior pastor of Victory Community Church in Detroit and Westland, Mich.
Theodore G. Coutilish '95 was appointed vice chancellor, marketing and community relations of Oakland (Mich.) Community College.
Gregory D. DeGrazia '94 has joined the Detroit-based firm Miller Canfield as a principal attorney in the intellectual property group.
Shelly (Lee) Griffin '93 has joined the Troy, Mich.-based law firm of Secrest Wardle as an executive partner.
Steven A. Juodawlkis '99 has been named director of product management for United Federal Credit Union based in St. Joseph, Mich.
Rhett B. Rowe '91 has been named chief revenue officer of GMA Fund of New York, a specialty finance firm that provides cash flow solutions for small and mid-sized businesses.
Dexter Shurney, M.D. '90 was named chief medical officer and senior vice president of clinical affairs for digital health and wellness company Zipongo.
John R. Ward '95 has been named dean of the College of Education at Kutztown University in Pennsylvania.
John Wichmann '98 has been named president of Illinois-based Sewer Equipment.
2000s
Andrea (Trebnik) Badalucco '06 has joined the Michigan-based law firm Foster Swift and will practice in the firm's Southfield office in the areas of civil, criminal, family law and juvenile matters.
Kenneth F. Devries '00 has joined Horizon Sales, a company specializing in electronics assembly and soldering equipment and supplies based in Ohio.
Andrew Hayner '08 was recently promoted to the position of Senior Attorney at DTE Energy.
Scott M. Kowalski '07 was named head of corporate banking for southeast Michigan at PNC Financial Services Group, Inc.
James Meek '01 has been named sales manager, lead maker and sawyer for Live Edge Detroit, a Troy, Mich.-based lumber manufacturer.
Richard C. Mills '05 has been named a partner of the Jackson, Mich.-based law firm Marcoux Allen. He also serves on the Probate and Estate Planning Council for the State Bar of Michigan.
Emily (Meyer) Robertson '07 has joined Troy, Mich.-based Estate Planning Services, P.C. as operations attorney.
Julianne (Cassin) Sharp '01 has joined Detroit-based Miller Canfield as principal attorney in the firm's immigration practice.
2010s
Kyle T. Burleson '10 has been named executive director of the Detroit/Wayne County Port Authority.
Bradley Fowler '10 was honored by the Grand Rapids Bar Association for his contributions to the legal profession by someone who is in the early stages of his career. He is with Mika Myers PLC in Grand Rapids, Mich., and is a board trustee for the Grand Rapids Bar Association and a board member for Catholic Charities of West Michigan.
Tanya M. Murray '17 has joined the insurance coverage practice group of the Southfield, Mich.-based law firm Collins Einhorn Farrell PC.