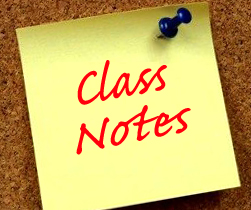 Have you recently been promoted, honored or published? Have you switched employers or career paths? Share the news with fellow Detroit Mercy alumni, parents, friends, faculty and staff.
Send your Class Notes to alumni@udmercy.edu.
1970s
Michael W. Brunker '74 was honored with the Human Dignity Award by the YMCA of San Diego (Calif.) County. He is the executive director of the Jackie Robinson Family YMCA. The award is given to a person who exemplifies Dr. Martin Luther King, Jr.'s life and work.
1980s
Frequency Therapeutics, a Massachusetts-based biotechnology company, appointed Carl LeBel '80 to executive vice president of clinical development.
1990s
George S. Attia '95 has been named vice president, managing principal of AECOM's Detroit Buildings and Places business within its design and consulting services group. AECOM is a global infrastructure firm.
Shelly (Lee) Griffin '93 has joined the Troy, Mich.-based law firm of Secrest Wardle as an executive partner.
John R. Ward '95 has been named dean of the College of Education at Kutztown University in Pennsylvania.