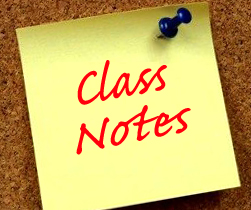 Have you recently been promoted, honored or published? Have you switched employers or career paths? Share the news with fellow Detroit Mercy alumni, parents, friends, faculty and staff.
We will be updating this page soon. Look for the most recent listings in Spiritus. Send your Class Notes to alumni@udmercy.edu.
1980s
Lenora Hardy-Foster '88, '96  has been named to Crain's Detroit Business prestigious Health Care Heroes list for 2019 for her efforts in expanding autism programming at the Judson Center, where she is CEO and president.
Robert Kret '84 is the new CEO of the Connecticut Historical Society, a Smithsonian affiliate. He will be overseeing the organization's museum, library and Edgar F. Waterman Research Center in Hartford, Conn.
Matthew J. Stanczyk '86 has been elected to the board of directors at the Michigan-based law firm Plunkett Cooney. He serves at the firm's product liability practice group leader.
Crain's Detroit Business named Michele A. Williams '85 a Notable Woman in Human Resources. She is the executive director of the Rochester Hills, Mich.-based Leadership Resources Consulting.
1990s
Douglas E. Jahner '98 has been named business banking relationship manager of the Tennessee-based First Farmers & Merchants Bank.
Stephen C. Ruschak '92 has been named CEO of the Southfield, Mich.-based insurance corporation The Guarantee Company of North America and The Guarantee Company of North America USA, where he has been president since 2009.
Lisa Wittmer '91 has joined VenatoRX Pharmaceuticals, a Pennsylvania-based private pharmaceutical company. She will oversee nonclinical and clinical development and global regulartory affairs.
2000s
Myra Ebarb '05 was named one of Crain Detroit Business' 2019 Notable Women in Human Resources. She is director of People and Perks for Sachse Corp., a Detroit-based construction company.
2010s
Fr. Adam Nowak '13 graduated summa cum laude from Sacred Heart Major Seminary with a masters of divinity degree and cum laude from the Pontifical University of St. Thomas in Rome with a bachelor's degree in sacred theology. Fr. Nowak was ordained a Roman Catholic priest for the Archdiocese of Detroit on June 8, 2019.
Michigan Gov. Gretchen Whitmer has named Kristina Robinson '10 to fill an open seat on the bench in Detroit's 36th District Court.