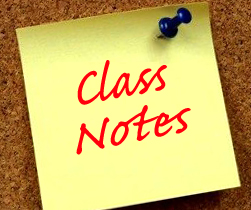 Have you recently been promoted, honored or published? Have you switched employers or career paths? Share the news with fellow Detroit Mercy alumni, parents, friends, faculty and staff.
The University of Detroit Mercy community is also interested in celebrating the lives of our alumni. If you know of a member of the community who has recently entered eternal life please post a note.
Send your Class Notes to alumni@udmercy.edu.
1960s
Robert J. Pliska '69 was named SVN International's Humanitarian of the Year. He is owner and managing director of SVN Property Investment Advisors, LLC., in Birmingham.
1970s
Thomas J. Boecker '70 was honored for his lifetime commitment and dedication to the well-being of the residents of Shelby County (Ohio) with the naming of a building after him. The Thomas J. Boecker Professional Building will be on the Sidney, Ohio, campus of Wilson Health, where Boecker has worked for 40 years, 17 of them as chief executive officer.
Barry M. Bywalec '72 has been named senior project manager at Stantec Consulting in Tampa., Fla. He provides civil engineering services for the new Pier in downtown St. Petersburg.
David F. DuMouchel '72, who chairs the Corporate Compliance, internal Investigation and Criminal Defense practice at Butzel Long law firm in Detroit, is one of only two Michigan attorneys ranked Tier One in White Collar Crime & Investigations by Chambers U.S.A. for 2017.
Ola (Marshall) Smith '79 has been reappointed to the State Board of Accountancy by Michigan Gov. Rick Snyder. She is chair and a professor in the Department of Accountancy within the Haworth College of Business at Western Michigan University.
1980s
Paul D. Ballew '88, '91 has been named vice president and global chief data and analytics officer for Ford Motor Co. He was also elected a Ford Motor Company officer.
Navy Capt. Michael D. Bernacchi Jr. '88 has been nominated for appointment to the rank of rear admiral (lower half). He is executive assistant to the vice chief of Naval Operations in Washington, D.C.
Laurie Mendoza '84 was honored by Online Counseling Programs for her blog, The School Counseling Files, which provides information and resources to school counselors. Mendoza is a certified elementary counselor in Massachusetts.
Claudia Rast '86 has been reappointed to serve a one-year term on the American Bar Association's Cybersecurity Legal Task Force. She is an attorney with the law firm Butzel Long.
1990s
Tamika Hall '97, '00 was recently named Chief Operating Officer of Sigma Investment Counselors in Southfield.
Jennifer (Miller) Howe is president of the Lake County (Illinois) Bar Association. She is a partner at the Lake Forest, Ill, law firm Lesser Lutry Pasquesi & Howe LLP. She is also an adjunct professor at the Loyola University Chicago School of Law.
Michelle Johnson-Tidjani '98 has been named system general counsel and senior vice president for business integrity, tax, privacy and security, governance and risk finance and assurance at Henry Ford Health System in Detroit.
Kathleen (Dause) Novetsky '90 has opened a AAA Insurance General Agency in Rochester Hills.
Dennis C. Ortman '93, '95 has published Depression Anonymous: The Big Book on Depression Addiction. He has been a clinical psychologist in private practice in metropolitan Detroit for 25 years.
Derk Pronger '94 has been appointed to the Council of Regents, the legislative body of the American College of Healthcare Executives. He is chief operating officer of Munson Medical Center in Traverse City.
Jeffrey W. Saad '96 has been named Healthcare Leader of the Chicago office of architecture and design firm Perkins+Will.
Stuart A. Sandweiss '99 was named to Protect Pharmaceuticals board of directors. He runs Sandweiss Law Center, P.C. in Southfield, Mich.
2000s
Aura (Lopez) Cazares '09 has been named to Firs Lady of Michigan Sue Snyder's Campus Sexual Assault Workgroup tasked with developing resources for assault survivors. Cazares is the student conduct and compliance officer and Title IX coordinator at Henry Ford College.
Adrienne (Rychlicki) Custer '02 was appointed to the Great Parks Foundation Board in Cincinnati, Ohio. She is in-house attorney for Clarke Power Services, Inc. in Ohio.
Patrick M. O'Reilly '06 has resumed his solo practice Patrick M. O'Reilly, PLLC, in Livonia and St. Clair Shores.
The Rev. Benjamin Rexroat '04 was ordained a Catholic priest; he serves in the Gaylord Diocese.
Katheryn (Roersma) Rohrhoff '05 was named a member of the Oakland County (Mich.) Executive's 2017 Elite 40 Under 40. She is a registered nurse at Huron Valley-Sinai Hospital and vice president and co-founder of the Riley Katheryn Foundation.
2010s
Katharine (Brink) Harrison has been named senior associate with the Detroit-based land use and business law firm Dalton & Tomich, PLC.
Joseph Hess '12 has joined the Grand Rapids office of the law firm Barnes & Thornburg LLP, as a member of the Labor and Employment Law Department.