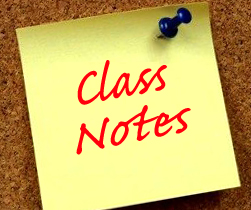 Have you recently been promoted, honored or published? Have you switched employers or career paths? Share the news with fellow Detroit Mercy alumni, parents, friends, faculty and staff. See the Fall 2018 Spiritus for the most recent list. This page will be updated again beginning Oct. 1.
Send your Class Notes to alumni@udmercy.edu.
1960s
Denis M. Callewaert '69 received an inaugural Michigan Bioscience Pantheon Awards from MichBio, an Ann Arbor-based biotechnology company. Callewaert founded Oakland University's Biochemistry program and its Center for Biomedical Research. In 1993, he helped start MichBio, one of five biotech companies he helped start.
John G. Donahue '68 was awarded the J.W. Paquette Award for outstanding leadership by the Midwest Association of Colleges and Employers. It recognized his leadership with the association, which connects students to employers.
William M. Donovan '61, '64 will join Lippitt O'Keefe Gornbein as senior counsel as the firm merges with Birmingham, Mich.-based Serra Donovan.
D Business magazine named James R. Geroux '64 among its top lawyers for 2019 in the field of Workers Compensation. He is of counsel with Detroit-based Plunkett Cooney.
1970s
Michelle (Hirfchauer) Anthes '77 has been named the first female managing partner at the Grand Rapids, Mich.-based law firm McShane and Bowie where she has worked since 2005. Her practice focus is estate planning.
The Hon. Maura D. Corrigan '73 has been named to the 2018 class of Women Who Lead by WJR-AM 760. Based in Butzel Long's Detroit office, Corrigan concentrates her practice in litigation and appeals.
David F. DuMouchel '72 has been elected to the board of directors of the Federal Community Defender of the Eastern District of Michigan, created to provide oversight in the provision of indigent defense services in the United States District Court for the Eastern District of Michigan. He chairs the corporate compliance, internal investigation and criminal defense practice at the law firm Butzel Long.
Faye (Alexander) Nelson '75, '80 was named director of Michigan programs for the W.K. Kellogg Foundation. She will lead the foundation's statewide grantmaking priorities from its Detroit office.
Nicholas Noel III '77 has become of counsel with the Bethlehem, Penn.-based law firm King, Spry, Heran, Freund and Faul LLC. He is also solicitor to the Palmer Township Zoning Hearing Board.
Nathaniel R. Patray '77 has been named governor of the Central Bank of Liberia.
David Williams '79, '82 received the inaugural Legacy Award from the Association of Vanderbilt Black Alumni. The award will be be named the David Williams II Legacy Award and be presented annually to Vanderbilt community members who have made significant contributions to advancing and improving the experiences of African-American students, faculty and staff. Williams recently stepped down as vice chancellor and athletics director to establish a new Sports, Law and Society program at Vanderbilt Law School.
1980s
D. Jennifer Andreou '85, who specializes in medical malpractice law at the Detroit-based law firm Plunkett Cooney, to its list of top lawyers for 2019.
David M. Baratta '81 has joined the Southfield-based real estate firm The Farbman Group where he will specialize in property management and development.
Charles W. Browning '81 was named to D Business magazine's top lawyers for 2019 list. He specializes in insurance law at Plunkett Cooney in Detroit.
Michael Doesch, CRNA, Ph.D. '87, was elected secretary-treasurer of the Michigan Association of Nurse Anesthetists.
John A. Forrest '81 has joined Lansing-based Fahey Schultz Burzych Rhodes PLC as of-counsel in the fields of franchise and distribution, commercial contracts, business planning and corporate law.
Glenn A. Jackson '86 has been named lead counsel, Product Litigation at General Motors.
D Business magazine has named Robert G. Kamenec '82, a top lawyer of 2019. He specializes in appellate law at Detroit-based Plunkett Cooney law firm.
Ruth Kelly, R.S.M. '82 has joined the leadership team of the Religious Sisters of Mercy's Northeast Community. She is a longtime member of the National League of Nursing and an NLN ambassador for the University of St. Joseph.
D Business has named Mark S. Kopson '81 of Detroit-based law firm Plunkett Cooney of the its top lawyers for 2019. He specializes in health care law.
Faye (Alexander) Nelson '80 was named a Notable Woman in Nonprofits by Crain's Detroit Business. She is director of Michigan programs for W.K. Kellogg Foundation.
Kenneth C. Newa '89, who specializes in insurance law law at the Detroit-based law firm Plunkett Cooney, to its list of top lawyers for 2019.
Mary Catherine Rentz '81 of Detroit-based law firm Plunkett Cooney as a top lawyer for 2019. She specializes in insurance law.
Rose Ryntz '83 has been named a 2018 Lifetime Achievement Award Winner by the Society of Plastics Engineers' automotive division. Ryntz is vice president of global advancement development and material engineering at Luxembourg-based International Automotive Components Group.
D Business has named Matthew J. Stanczyk '86 of Detroit-based law firm Plunkett Cooney of the its top lawyers for 2019. He specializes in product liability.
1990s
Michael M. Antovski '97 has joined the Detroit office of the law firm of McDonald Hopkins LLC in the tax and benefits department.
Ellen G. Ha '91, has joined the City of Detroit's Office of Inspector General, which oversees city contracts and purchasing.
Diane Hackman '93 received the American Association of Nurse Anesthetists Clinical Instructor of the Year Award presented to an individual who has made a significant contribution to the teaching of nurse anesthesia students in the clinical area.
Leah B. Haran '93 was on the Crain's Detroit Business' list of Notable Women in Marketing. She is senior vice president for strategy and media relations for the Airfoil Group based in Royal Oak
Steven A. Juodawlkis '99 has been appointed director of product management at United Federal Credit Union based in St. Joseph, Mich.
Jeffrey L. Karafa '92 was named executive vice president and chief financial officer of Southern National Bancorp of Virginia, Inc.
Rachel Rancilio '97 was appointed to the governor's task force on child abuse and neglect. She is a family and juvenile division judge for Macomb County Circuit Court.
Michael S. Williams '96 has joined New York-based Generations Bank as an investment adviser representative.
2000s
Josephine A. DeLorenzo '08 has been appointed commissioner-at-large of the State Bar of Michigan Board of Commissioners. She specializes in appellate law with Detroit-based Plunkett Cooney.
Zenna Faraj Elhasan '04 has joined the Kresge Foundation to serve as its first lead attorney. In this newly created role, Elhasan will advise the foundation's board of trustees and staff on legal matters and support the development and enforcement of foundational policies and practices.
Sara (Stasys) Rubino '08, was named a 2018 up-and-coming lawyer by Michigan Lawyers Weekly. She specializes in probate, trust, estate and fiduciary litigation at Detroit-based law firm Dickinson Wright PLLC.
E'lois (Sampson) Thomas '00 has been appointed to the board of directors for the Midwest Energy Efficiency Alliance, an organization charged with raising and sustaining energy efficiency in the Midwest. She is CEO for Solutions for Energy Efficient Logistics, LLC.
Richard A. Vanacker '05, an eighth-grade mathematics teacher at Davison Elementary/Middle School in Detroit, has been given an Excellence in Education award from the Michigan Lottery.
2010s
Margaret A. Baumgartner '13 has joined Grand Rapids Ophthalmology.She is a member of the Academy of Optometry and the Michigan Optometric Association.
Alexander M. Leonowicz '12 has been named an up-and-coming lawyer for 2018 by Michigan Lawyers Weekly. He is with the Royal Oak-based law firm Howard & Howard Attorneys and concentrates his practice on cannabis law and related business transactions.
Brian T. Moore '14 has joined Detroit-based Quinn Evans Architects, a firm that creates sustainable, collaborative projects that preserve and enhance the built and natural environments.
Derek J. Polk '15 has also joined Detroit-based Quinn Evans Architects.
Jennifer L. Pope '18 has joined the Detroit office of the law firm Dinsmore and will focus her practice on commercial litigation.
Alan Z. Shamoun '12 joined the Detroit-based law firm of Plunkett Cooney in its business law department. He will serve as group leader of the firm's tax law practice.
Christina Smith '14 has joined TMP Architecture, a Bloomfield Hills, Mich.-based firm specializing in educational facilities.
Courtney A. Williams '18 is the new public relations and media director for the Rohns Community Development Corporation, a Detroit-based organization dedicated to working with inner-city neighborhoods to inspire growth and economic sustainability.