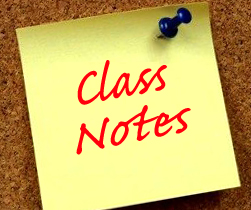 Have you recently been promoted, honored or published? Have you switched employers or career paths? Share the news with fellow Detroit Mercy alumni, parents, friends, faculty and staff.
The University of Detroit Mercy community is also interested in celebrating the lives of our alumni. If you know of a member of the community who has recently entered eternal life please post a note.
Send your Class Notes to alumni@udmercy.edu.
1960s
Edward Callaghan '68 was reappointed by Mich. Gov. Rick Snyder to the Michigan Employment Relations Commission for a two-year term. He is an adjunct business faculty member for Oakland Community College.
Detroit trial lawyer Fred Lauck '65, '69 chronicles the legal landscape of Detroit over from the 1900s to today in his book "The Fightin' Irish of Detroi: Fightin' in the Streets…Fightin' in the Courts (An American Story).
1970s
The Hon. Martha Anderson '77 was reappointed to the Community Corrections Board by Mich. Gov. Rick Snyder. The 13-member board serves in an advisory role to the director of the Michigan Department of Corrections and is charged with making suggestions to improve community corrections programs in the state.
C. Leslie Banas '73 joined the Troy, Mich.-based Kemp Klein Law Firm as a shareholder.
James Borchard '76 has been appointed to the Commission on Community Action and Economic Opportunity by Mich. Gov. Rick Snyder. The 12-member commission is charged with reducing the causes, conditions and effects of poverty and promoting social and economic opportunities that foster self-sufficiency for low-income people.
Philadelphia-based Cozen O'Connor named Vincent Candiello '78 a trial lawyer and labor relations negotiator in the firm's labor and employment department.
Marlin Equity Partners and Tellabs board of directors have appointed James D. Norrod '75 president and chief executive officer of tellabs, a Dallas -based software and networking company.
Donald G. Rockwell '76 was elected president of the State Bar of Michigan. He is founder of Mill Rockwell, P.C. in Flint and is university counsel for Kettering University.
Mich. Gov. Rick Snyder has reappointed Ola Smith '79 to the State Board of Accountancy, which oversees licensureand certification requirements for certified public accountants and public accounting firms. She is a professor and department chair at Western Michigan University.
Kathryn Usitalo '76 has published her first solo book, "100 Things to Do in the Upper Peninsula Before You Die" and runs the Michigan travel website GreatLakesGazette.com.
1980s
Kevin H. Byrnes '83 was named communications director of the city of Birmingham, Mich.
Timothy R. Damschroder '88 was reappointed to the Health Endowment Fund Board by Mich. Gov. Rick Snyder. The board promotes health programming throughout the state for children and seniors. He is a partner at the Detroit-based firm Bodman PLC.
Lori (Smith) Glenn, BSN, DNP '87, '12 was ppointed to the Michigan Board of Nursing by Mich. Gov. Rick Snyder. The 24-member board establishes qualifications for nurse licensure, approves standards for nursing education programs and handles disciplinary matters. She is a certified nurse midwife at Mid-Michigan Midwifery.
Theresa (Curmi) Joswick '85 was named to the list of Best Lawyers in America for Employee Benefits law. She is an attorney with Dawda, Mann, Mulcahy & Sadler, PLC in Birmingham, Mich.
Sulyman A. Kareem '80 has been named vice chancelor of the University of Ilorin in Nigeria. He is also a professor in the school's Depertment of Chemical Engineering.
Faser Trebilcock has named corporate and real estate attorney Norbert T. Madison '81 to the firm's Detroit office.
Tom Szezepanski '85 was named chief operating officer of Detroit Public Television.
The Hon. Tracey A. Yokich '85 was elected president of the Michigan Judges Association and will serve a one year term.
1990s
Michelle L. Alamo '99 has been reappointed chair of Defense Research Institute's Intellectual Property Litigation Committee. She is a member of Dickinson Wright PLLC's Detroit office.
David Claeys '99, '03 was named president of Beaumont Hospital, Dearborn.
Illinois-based auto parts manufacturer Navistar International Corp. named Josef S. Kory '94 senior vice president of Parts.
Mary Ann (Robb) Victor '94 was appointed to the Michigan Board of Pharmacy, which is responsible for regulating and inspecting the practice of pharmacy and drugs manufactured and distributed in the state. She is president of MAV Associates, LLC.
John R. Ward '95 has been named interim dean of the College of Education at Kutztown University in Pennsylvania.
2000s
David J. Bartolovic, D.D.S. '00 has joined Holly (Mich.) Dental Care as a prosthodontic specialist.
Sarah (Jaeger) Dorow '08, '11 has joined the NBC25/Fox66 news team in Flint, Mich., as a reporter.
Jela (Vaclavova) Ellefson '01 has been named vice president, Social Capital, in the Lansing, Mich.-based financial services firm Cinnaire.
Glenn P. O'Connor '01 was reappointed to the Board of Nursing for the state of Michigan by Gov. Rick Snyder. The board establishes qualifications for nurse licensure, approves standards for nurse education programs and takes disciplinary action against licensees when necessary.
Helen Hsu '07 has joined the West Palm Beach, Fla.-based law firm Kelley Kronenberg to handle matters related to Workers' Compensation defense.
Julianne (Cassin) Sharp '01, a partner with the Michigan law firm Jaffe Raitt Heuer & Weiss, P.C., has been named one of the state's 30 Women in Law for 2017 based on her commitment to the practice of law, accomplishments and dedication to volunteering and mentoring other attorneys. She is a member of the firm's immigration practice group.
Amy Winn-VanHoeck '00 is the new administrator for the Blue Water Bridge in Port Huron, Mich. She was appointed by the Michigan Department of Transportation.
2010s
Kyle T. Burleson '10 has been named interim executive director for the Detroit/Wayne County Port Authority.
Katrina Hardy '12 has joined Diplomat Pharmacy, Inc., in Flint, Mich. as corporate counsel.
Joseph R. Lazar '14 has joined the Ohio-based accounting firm The Siegfried Group, LLP.
Brian K. Mitzel '16 has joined the tort and litigation practice group in the Bloomfield Hills office of Plunkett Cooney.
Lauren D. Smith '11 has published the romance novel "An Earl by Any Other Name." She is an intellectual property lawyer in Tulsa, Okla.