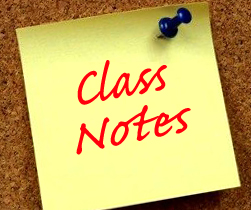 Have you recently been promoted, honored or published? Have you switched employers or career paths? Share the news with fellow Detroit Mercy alumni, parents, friends, faculty and staff.
We will be updating this page soon. Look for the most recent listings in Spiritus. Send your Class Notes to alumni@udmercy.edu.
1970s
Donald J. Bachand '73, '76 is the new president of Saginaw Valley State University. He was previously dean of Arts and Behavioral Sciences and provost and vice president of Academic Affairs at the school.
David F. DuMouchel '72, a shareholder in the Detroit-based Butzel Long law firm, has been appointed to serve on the Magistrate Judge Merit Selection Panel for the U.S. District Courth for the Eastern District of Michigan.
Lisa (Sommers) Gretchko '79 was named in Crain's Detroit Business as a Notable Woman in Law. She is a bankruptcy attorney with the Royal Oak, Mich.-based firm Howard & Howard.
Maureen Lahiff '71 received the 2019 Zak Sabry Mentorship Award from the University of California School of Public Health. She has been a lecturer in biostatistics at the school since 1991.
David Williams II '79, '82 was posthumously given the NCAA Pat Summitt Award to recognize an NCAA member who has demonstrated devotion to the development of college athletes and has made a positive impact on their lives. Williams is the former vice chancellor for athletics and university affairs at Vanderbilt University.
1980s
Gail (Stern) Alpert '81 was appointed by Michigan Gov. Gretchen Whitmer to the Michigan Science, Technology, Engineering and Mathematics Education Advisory Council for a term expiring in Sept. 2020.
Michigan Gov. Gretchen Whitmer has named Marian (Dwaihy) Briske '81 to the Governor's Task Force on Child Abuse and Neglect. Briske is an assistant prosecuting attorney for the Macomb County Prosecutors Office.
Michael P. Jacob '81, '82 has been named Honorary Fellow of the Royal Architectural Institute of Canada. Honorary Fellows exemplify the tremendous impact that architects have on public life and the world. Jacob is regional vice president for Florida at GMC Architects.
Shari (Ferber) Kaufman '88 was elected to a three year term on the board of directors of the Barbara Ann Karmanos Cancer Institute. She is a criminal defense attorney and the owner of HoMedics, Inc., a Michigan-based manufacturer of health and wellness products.
Claudia Rast '86 has been reappointed to serve on the American Bar Association's Cybersecurity Legal Task Force, a group charged with examining risks posed by criminals, terrorists and nations that seek to steal information. She is department chair of the Detroit-based law firm Butzel Long's intellectual property practice.
Katherine E. Snyder '89, '93 was named a Notable Woman in Education Leadership by Crain's Detroit Business. She is dean of Detroit Mercy's College of Engineering & Science.
1990s
Michigan Gov. Gretchen Whitmer appointed Steven M. Bieda '92 to the Michigan Tax Tribunal. He is a former assistand Democratic Floor Leader in the Michigan State Senate and a former state representative.
Mark J. Hakim '99 is the new director of risk management and patient safety educational strategy at Med-IQ, Inc., which provides accredited clinical and risk management continuing education, consulting services and quality improvement solutions.
William J. Korte '92 was appointed to the board of trustees of the St. Vincent and Sarah Fisher Center in Detroit, which provides provides after-school tutoring to first- through fifth-graders and adult GED programs. Korte is retired after 40 years in the financial industry.
Eric M. Weaver '97 has been named vice preisdent, human resources at Universities Space Research Association, a private, nonprofit corporation under the auspices of the National Academy of Sciences based in Maryland.
2000s
Michael Castillo '05 is now a senior technical specialist and head of OBD systems, software, controls, calibration and testing at Mahindra Automotive North America.
Daniel Crabtree '09 has been named vice president of global supply chain for Troy, Mich.-based Meritor, Inc.
January (Dandy) Dragich '01 has joined the Grosse Pointe, Mich.-based Dragich Law Firm as a commercial litigation attorney.
Olga S. Radkevich-Brown '02, a board-certified dermatologist and a Fellow of the American Academy of Dermatology, recently joined the King of Prussia-based Pennsylvania Dermatology Partners.
2010s
Daniel Burkhart '15 has been selected a 2019 Up and Coming Lawyer by Michigan Lawyers Weekly. He is an associate in the Detroit law firm of Dickinson Wright where he focuses on debt and equity financing, mergers and acquisitions.
Michigan Gov. Gretchen Whitmer has appointed Charity R. Dean '15 to the Michigan Women's Commission. Dean is the director of civil rights for the city of Detroit.
Deanna J. Kossaras '13 was recognized in Crain's Detroit Business as a Notable Woman in Law. She is an intellectual property counsel for HARMAN International based in Novi, Mich.
The Federal Reserve Bank of Chicago has named Frederick C. Martin '10 as senior vice president and chief financial officer.
Miroslava Orduno-Rincon '10 was recognized in Crain's Detroit Businees as a Notable Woman in Law. She is an attorney with the Detroit law firm Kerr Russell and specializes in immigration law.
Asia Rawls '18 was named to The Michigan Chronicle's 2019 40 Under 40 list of African-American professionals who inspire others through their vision and leadership. She is the director of software education and training at Trumble, Inc., where she manages the delivery and use of real-time technology and mobile applications.
Lynita Taylor '10, '12 was named to The Michigan Chronicle's 2019 40 Under 40 list of African-American professionals who inspire others through their vision and leadership. She is the diversity and inclusion program manager for Wayne State University's Mike Ilitch School of Business.
Hannah E. Treppa '16 was named to the 2019 list of Up and Coming Lawyers by Michigan Lawyers Weekly. She is an associate in Butzel Long's Detroit office where she focuses on employment and labor law.
Javon L. Williams '10, an executive partner at the Troy, Mich.-based law firm Secrest Wardle, has been named to Michigan Lawyer's Weekly's Up and Coming Lawyers for 2019. Attorneys on the list are chosen based on their work in the first 10 years of their law career.