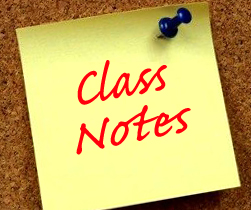 Have you recently been promoted, honored or published? Have you switched employers or career paths? Share the news with fellow Detroit Mercy alumni, parents, friends, faculty and staff.
We will be updating this page soon. Look for the most recent listings in Spiritus. Send your Class Notes to alumni@udmercy.edu.
1960s
John Billheimer '61 received the prestigious Edgar Allan Poe Award from the Mystery Writers of America for his nonfiction book, "Hitchcock and the Censors." He spent 35 years as the vice president of a small transportation planning firm in Los Altos, Calif., and retired to write mysteries.
1970s
Clean Energy Fuels Corp. of Newport Beach, Calif., has appointed Lizabeth Ardisana '78 to its board of directors. She is chief executive officer and the principal owner of ASG Renaissance, a technical and communication services firm she founded in 1987.
Donald J. Bachand '73, '76 is the new president of Saginaw Valley State University. He was previously dean of Arts and Behavioral Sciences and provost and vice president of Academic Affairs at the school.
David Cooper '71 was inducted into the state's Workers' Compensation Hall of Fame earlier this month by the state of Michigan. He is with Cooper & Bender P.C. in Adrian, Mich.
Michael J. Dunipace '70, owner of the design-build firm of Dunipace Buildings in Bowling Green, Ohio, was inducted into the Rural Builder Hall of Fame.
Michael Halm '71, founder of Hierogamous Enterprises, has published his 12th book, "The Hierogamous Songbook" of 641 original hymns and songs.
Maureen Lahiff '71 received the 2019 Zak Sabry Mentorship Award from the University of California School of Public Health. She has been a lecturer in biostatistics at the school since 1991.
Jerry Michaud '71, '76 was named executive director of the Office of Communications for the Veterans Health Administration, America's largest health care system.
The American Board of Orthodontics installed Valmy Pangrazio-Kulbersh, D.D.S. '77 as president. Kulbersh, the  first woman to serve as ABO president, is a professor and director of the orthognathic surgery and early treatment clinics at Detroit Mercy Dental's Graduate Orthodontic Program. She was also affiliated with the Detroit Medical Center, where she was a member of the craniofacial anomaly and cleft lip and palate treatment team.
Ola (Marshall) Smith '79 has been named chair of the Michigan State Board of Accountancy. Smith is the chair of the Department of Accountancy at Western Michigan University.
Kath Usitalo '76 has published "Secret Upper Peninsula: A Guide to the Weird, Wonderful, and Obscure," her third book about Michigan's Upper Peninsula. It's a companion to her other two books "100 Things to Do in the Upper Peninsula Before You Die" and "100 Things to Do on Mackinac Island Before You Die."
1980s
Rear Adm. Mike Bernacchi '88 was relieved by Rear Adm. John Spencer as Submarine Group Ten commander during a ceremony held at its headquarters building on the base. During the ceremony, Bernacchi received his eighth Legion of Merit award. As the Group Ten commander, he led 9,000 personnel from Trident Refit Facility, Naval Submarine Support Center, two submarine squadrons and eight submarines.
William H. Bishop III '80 has been named to the Jacksonville Historical Society Board of Directors. Bishop, a practicing architect since 1983, has served as vice president and chief operating officer for Akel Logan Shafer, PA for the past 28 years.
Matt Cullen '83 has been named the new CEO of Dan Gilbert's Bedrock LLC real estate company.
Mark S. Kopson '80 was recently elected to a second term on the board of directors of the American Health Lawyers Association (AHLA). He is a partner in the Bloomfield Hills, Mich., office of Plunkett Cooney.
Bob Manza '88 has been appointed to the SCORE board of directors. SCORE is the nation's largest network of volunteer, expert business mentors. Manza is retired from several senior leadership roles with PepsiCo.
Butzel Long attorney and partner Claudia Rast '86 has been appointed co-chair of the American Bar Association (ABA) Cybersecurity Legal Task Force. To date, she has served six one-year terms since this Task Force was created in 2012. Rast chairs Butzel Long's Intellectual Property, Cybersecurity and Emerging Technology Practice Department.
Martha (Palmer) Rogers '82 has been appointed as justice for the East End Veterans Treatment Court in Southampton, New York. She also presides as Associate Village Justice for the Village of Westhampton Beach, New York.
Michigan Gov. Gretchen Whitmer has appointed Edgar Roy III '84 to the Michigan Wildlife Commission. He is an attorney at Kuhn Rogers, PLC. He is a member of the Michigan Bear Hunters Association, Michigan United Conservation Club, and the Brook Trout Coalition.
Pamela Scales '87 has been named assistant superintendent for finance and operations for Oakland Schools, the intermediate school district representing all schools in Oakland County, Mich.
Johnsons Controls International has named Jeff Williams '89 vice president and president, Global Products, Building Technologies & Solutions.
1990s
David C. Anderson '98 has been re-elected to the board of commissioners of the State Bar of Michigan. The board oversees operations of the State Bar such as finance, public policy, professional standards, and member services and communications. Anderson is a partner with Southfield's Collins Einhorn Farrell PC.
Stefanini Group, a global technology company with its U.S. headquarters in Southfield, Mich., named Amy Anger '96 as vice president and general legal counsel.
Newtopia, Inc. a habit change platform for disease prevention, has appointee Hassan Azar '96 to its board of advisors. He has served in similar roles for other large corporations including at US Foods, Mondelez International, Kraft Foods, Delphi Automotive and The Ford Motor Company.
The National Safety Council appointed Mark Baker '94 vice president of the Workplace division at the nonprofit safety organization.
Richard Barsalona '94 was named general manager of signaling for R.J. Corman, a Kentucky-based signaling company. He has been with the company since 2019.
Susan (Capaldo) Benedict '95 was appointed to the board of directors of Auburn Hills, Mich.-based Unique Fabricating, Inc. She is chief human resources officer and assistant general counsel of Stoneridge, Inc.
Markwei Boye '96 was named a 2019 Man of Excellence by the Michigan Chronicle. He is owner and CEO of Smart Business Tax Solutions.
Goldman & Co., part of the Global Legal Group, appointed Anthony Robert D'Aniello '92 to the advisory board of both Global Legal Group and Goldman & Co Lawyers PC, Ltd. He is a senior international attorney and consultant.
Quinn Evans, one of the nation's leading practices in design, historic preservation, and sustainability, has promoted Devan Anderson '99 to senior associate in Quinn Evans' Detroit office. Anderson is currently serving as project architect for the modernization of Detroit's Michigan Central Station.
Judge Joseph Fabrizio '99 has been reappointed to serve as chief judge of the 52nd District Court for a two-year term that started Jan. 1, 2020.
Andrew Grams '96 was named shareholder at Nashville, Tenn-based law firm Lewis Thomason. He practices in the areas of commercial transportation, property and casualty insurance defense and real estate litigation.
Hamilton County, Ind.'s, judges have appointed attorney P. Chadwick Hill '97 to serve as a court commissioner, supporting the work of the Circuit and Superior Courts.
The FBI named Kristi Koons Johnson '97 the new special agent in charge of the Omaha Field Office, overseeing Nebraska and Iowa.
Mike Pazdro '93 has been named director of Facilities Planning and Construction at Saginaw Valley State University.
Daniel Pfannes '94, was appointed chair of the Automobile Theft Prevention Authority Board by Michigan Gov. Gretchen Whitmer. He is the undersheriff for the Wayne County Sheriff's Office.
Mich. Gov. Gretchen Whitmer has appointed David W. Jones '97 to the Michigan Indigent Defense Commission. He is a partner with Allen Brothers, PLLC.
Deborah Rubin '98, attorney at Michigan-based law firm Jaffe Raitt Heuer & Weiss, P.C., has been recognized in Michigan Lawyers Weekly Women in the Law Class of 2020. The annual Women in the Law award recognizes 30 lawyers who have made outstanding contributions to the practice of law in Michigan, set an example for other lawyers and have demonstrated tremendous leadership.
Janice Suchan '94 has been named vice president of marketing and business development for Lansing, Mich.-based Clark Construction Company. She is on the Alumni Advisory Board for Detroit Mercy's School of Architecture.
Marlin Williams '97 has been appointed to the Michigan Education Trust Board of Directors by Mich. Gov. Gretchen Whitmer. She is the chief program officer at TechTown Detroit and assistant vice president of economic development at Wayne State University.
2000s
Zabbia N. Alhouloua '09 has joined the Southfield, Mich.-based law firm of Collins Einhorn Farrell PC in the firm's general and automotive liability group.
Kelsey Cooke '09, legal counsel for Oakland County Water Resources Commission, has been selected as a member of the Oakland County Executive's Elite 40 Under 40 Class of 2020.
Susan Dabaja '04 was named to Michigan's Local Community stabilization Authority Council. She is an attorney in private practice and the president of the Dearborn City Council.
Kristina Robinson Garrett '10 has been appointed by Mich. Gov. Gretchen Whitmer to the Michigan Indigent Defense Commission. She is a judge with the 36th District Court of the City of Detroit.
GTC Law Group, a Westwood, Mass.-based law firm has hired Brad Goldring '10. He will practice in the firm's Open Source Compliance and Mergers & Acquisitions groups.
Ziyad I. Hermiz '08 has joined Varnum, a Michigan-based law firm. He is on the firm's litigation and trial practice team and works out of the firm's Birmingham, Mich., office.
Michigan's only professional African American theatre, Plowshares Theatre Company, appointed Lauren Hood '03 to its board of directors.
Karla Maldonado '04 has received the 2020 Janice Drake CRNA Humanitarian Award from the American Association of Nurse Anesthetists. Maldona is the assistant director of the University of South Florida's Nurse Anesthesia Program.
Dean Oang '03, '04 was named associate principal in the Charleston, S.C.-based architectural firm LS3P.
Anthony A. Randazzo '05, senior partner in Secrest Wardle's Troy office, has been named to Michigan Lawyers Weekly's Leaders in the Law Class of 2020.
2010s
Kristin E. Crowley '19 has joined the Southfield, Mich.-based law firm Collins Einhorn Farrell PC in the general and automotive liability practice group.
Sarah F. DeMeillier '11 has been named bureau chief of the Narcotics Unit in the Oneida County (N.Y.) District Attorney's Office.
Karolina M. McGovern '12 has joined law firm Secrest Wardle's Troy, Mich., office as a partner.
Madison McNerney '18 has joined the Toronto-based Neinstein Personal Injury Lawyers.
Martha L. Morgan '17 was appointed to the Michigan Board of Dentistry. She is a licensed dental hygienist and an adjunct professor at the University of Detroit Mercy School of Dentistry.
Trevor Pawl '11 was named chief mobility officer of Michigan's new Office of Future Mobility and Electrification, which will explore the future of transportation.
Lynita Taylor '10, '12 has been selected for the Michigan Chronicle's 40 Under 40 awards. She is diversity and inclusion program manager for the Mike Ilitch School of Business PwC MPREP Scholars.