Thursday May 22 —> July 30
1)         Part One:  May 22:   "Remember sun screen" —   Pine Ridge, SD is about 3400 ft above sea level,  sun shines more directly here than in Motown at 300 ft elevation.   In most years, about a week after commencement and Eastern Market Flower days, I pack for a week on the Pine Ridge Lakota Reservation.  It sits in western South Dakota; you can see the profile of The Black Hills 70 miles off to the north and west;  you can stand still near wild Badland formations, created mostly by wind.  Improbably with desert-like terrain,  you can also stand still to listen to meadowlarks, and frogs, in marshy water holes 100 yards across.   It's because I lived here a long time that this particular beauty melts my soul and refreshes my spirit.
So do conversations with soul friends of 40 years or more.  I come to Pine Ridge to renew the origins of my adulthood in this place of beauty and laughter and grief.  It slows my steps and my breathing.  And reminds me that the normal work year has ended and summer has begun.  There's  still plenty of work time but the pace is different.   For you too, I hope.
2)         Part Two: July 30:    About 3:00 am on July 30 I will pull off highway 35 in Upper Michigan at Fox Point Park.  The park is mostly beach and shore grass and pines, 30 miles north of my home town, Marinette Wisconsin.  I will have said goodbye to my sister Mary and eased into a long drive around the top of Lake Michigan, the first 4 hours in pre-dawn stillness.   No one is there at Fox Point at 3:00 am.  I walk to the beach, and breath a little.   I pray the Lakota Prayer of the Six Directions, a very small human next to this vast lake of my childhood.   I'll drive around the north shore, into the sunrise, then over the Mac Bridge and head south toward Detroit and home.    The prayer in the dark of night and all this water opens me to stillness.   It marks the end of summer and a turn toward a new work year.
This is pretty autobiographical for a workday post.  I write this way today by way of announcing that the work day poetry list will take a summer break too, offering me time for gardening, baseball, and nordic trac and for reading some poetry.
See you Monday August 4. Work day posts will begin for the coming year.
Have a blest summer.
john sj
p.s.       a recording of the song of the Western Meadowlark
Fog Basin, Dakota Badlands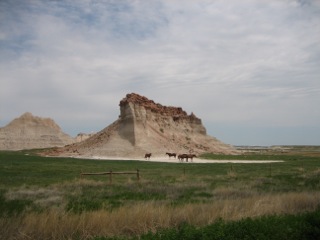 Lake Michigan western shore