Friday September 19             "Make no mistake. Of course                                                               your work will always matter.           Yet  .  .  .  .  "
Lynn Ungar's poem, "Camas Lillies," gets a little more out of date every day September grows a little older.   "This is a summer poem!"     Isn't it?  Well, maybe it's a Friday poem.  Weather.com tells us today at 3:00 pm it should be 66º w.  47% humidity, and a little breezy.   Today's poet suggests that Camas Lilies carry their utilitarian value in the same hand that carries their beauty,    that beauty and useful need each other.    Perhaps that is what Judge of Bankruptcy Steven Rodes had in mind yesterday when he asked DIA Vice President Annmarie Erickson ". . .  why the art museum was important to the community, particularly the 60,000 local children that visit annually as part of school programs.  Erickson said it helps children develop critical thinking skills and helps visiting families learn about art." (Crain's, Sept 19, 5:09 am)   That sure sounds like a response we give when asked about the value of a UDM education.   Beauty runs deep, it is not frivolous.  Stillness and precision focus work need each other.
I think that's what Lynn Ungar is getting at.   I don't think the poem is out of date in late September, when we are already deep into our work year.  Maybe it's a great poem for Friday September 19 with today's early autumn splendor.   It could be a good day to stand still for 30 seconds, or maybe 25  . . . . while you are on your way somewhere across campus, to allow some beautiful human being to reduce you to stillness.  Or some beautiful leaf on a tree?   Or just look out your window?
Best to read the poem out loud, maybe with a couple pauses within it.
Have a great weekend.
john sj
Today's Post
Consider the lilies of the field,
the blue banks of camas opening
into acres of sky along the road.
Would the longing to lie down
and be washed by that beauty
abate if you knew their usefulness,
how the natives ground their bulbs
for flour, how the settlers' hogs
uprooted them, grunting in gleeful
oblivion as the flowers fell?
And you—what of your rushed
and useful life? Imagine setting it all down—
papers, plans, appointments, everything—
leaving only a note: "Gone
to the fields to be lovely. Be back
when I'm through with blooming."
Even now, unneeded and uneaten,
the camas lilies gaze out above the grass
from their tender blue eyes.
Even in sleep your life will shine.
Make no mistake. Of course
your work will always matter.
Yet Solomon in all his glory
was not arrayed like one of these.

"Camas Lilies" by Lynn Ungar, from Blessing the Bread: Meditations. © Skinner House, 1995. Presented here as posted on the poet's website.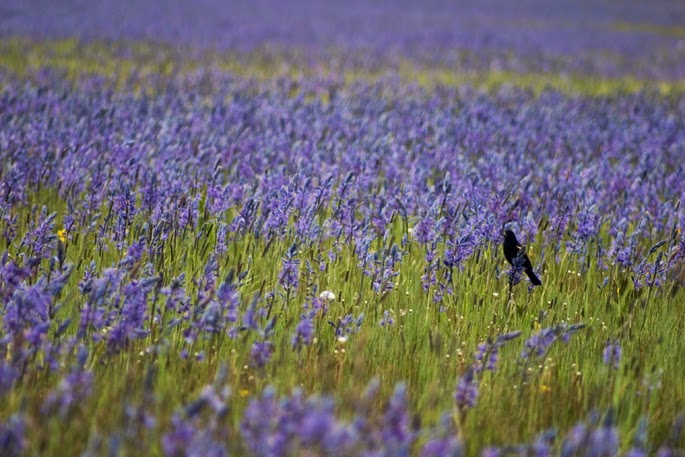 Art credit: "A red winged blackbird among spring camas blooms," photograph by Greg Stahl.