Thursday December 18
I am writing today's post by candle & oil lamp light as DTE takes the first steps toward a renovation of UDM's McNichols electrical infrastructure.  When power goes out,  the building goes quiet — no compressors,  no fans — remarkable how those sounds of living with an electric light & power grid come to feel natural.  The stillness inside the house allows sounds from outside to get some attention, traffic from Livernois can whisper and be noticed so that it is not only sirens that reminds us that we work in a city.   While writing this at 7:40 power returned to our building, compressors and fans return to their duties and so do we.
Robert Frost writes about dim light as an essential need.  Here is his poem, posted to celebrate a morning begun with batteries, candles and some stillness.
Robert Frost "The Literate Farmers and the Planet Venus"
Here come the stars to character the skies,
And they in the estimation of the wise
Are more divine than any bulb or arc,
Because their purpose is to flash and spark,
But not to take away the precious dark.
We need the interruption of the night
To ease attention off when overtight,
To break our logic in too long a flight,
And ask us if our premises are right
Have a blest day,
john sj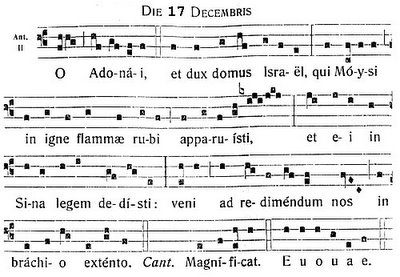 Today's Post:  "O Adonai"
To listen to the Antiphon sung in Gregorian Chant  —>   https://www.youtube.com/watch?v=CvafrxZ_Ww4
Malcolm Guite is a poet and singer-songwriter living in Cambridge. He is a priest, chaplain, teacher and author.  (http://malcolmguite.wordpress.com/)
December 18: O Lord
O Adonai
Unsayable, you chose to speak one tongue,
Unseeable, you gave yourself away,
The Adonai, the Tetragramaton
Grew by a wayside in the light of day.
O you who dared to be a tribal God,
To own a language, people and a place,
Who chose to be exploited and betrayed,
If so you might be met with face to face,
Come to us here, who would not find you there,
Who chose to know the skin and not the pith,
Who heard no more than thunder in the air,
Who marked the mere events and not the myth.
Touch the bare branches of our unbelief
And blaze again like fire in every leaf.
~Malcolm Guite