Dec 19 —  "Steady your hearts for the Lord is close at hand, and do not grumble one against the other.'   1 James 5
"Veni ad liberandum nos
Jam noli tardare."
"Come and liberate us
Come now, don't delay."
Today's Antiphon asks for patience in a demanding, sometimes brutal, world.   John Foley's haunting Advent hymn "Patience People"  fits today.    In my life experience, it fits many days.  On good days I love the patient courage all around me, ordinary people who look and act beautiful and brave.  On bad days, I need patient courage to live my commitments, and try to live a pretty elementary decent life.   Good days and bad days, the fabric of our lives, no?
The YouTube recording is 3:44 minutes.  https://www.youtube.com/watch?v=VQVE-5yfq4s
Antiphons 4, 5, and 6 should arrive in your mail boxes without a lot of comment for Saturday and Sunday and Monday.
Have a blest weekend.
john sj
Today's Post:  "O Root of Jesse"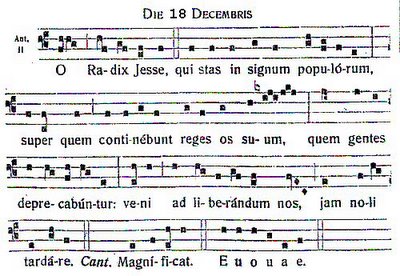 To listen to the Antiphon sung in Gregorian Chant  —>  https://www.youtube.com/watch?v=l8Z3nwkExUQ
December 19: O Root of Jesse
O Radix Jesse
All of us sprung from one deep-hidden seed,
Rose from a root invisible to all.
We knew the virtues once of every weed,
But, severed from the roots of ritual,
We surf the surface of a wide-screen world
And find no virtue in the virtual.
We shrivel on the edges of a wood
Whose heart we once inhabited in love,
Now we have need of you, forgotten Root
The stock and stem of every living thing
Whom once we worshiped in the sacred grove,
For now is winter, now is withering
Unless we let you root us deep within,
Under the ground of being, graft us in.
~Malcolm Guite
http://malcolmguite.wordpress.com/