Monday, February  9  –  "Scar tissue is visible history  . . . "
Many friends have seen the leather based, bead-worked stole a Lakota woman created in 1970.   Two other women told me to wear it as I walked in procession to be ordained a priest on May 25, 1970.    In pictures from that day, the white of the leather is hard to distinguish from the white of the robe I wore.   Today the stole shows its age.  I sometimes tease about its battered 44 year condition; "it's blessed a lot of pain and heard a lot of courage, and wears its history."  Several crafts-people have repaired it at times when it was falling to pieces.    Is the stole more beautiful now or when the Lakota artist created it?  Beautiful both times.  Beauty from its first artist, beauty from grief and despair and playful energy that have worn it down.
Which is more beautiful among our students?  Their dazzling achievements or their fatigue?  Both I think:  "scar tissue is visible history" says today's poet.   Same thing for us non-students who give our energy and skill and affection for the rebirth of hope in ourselves and in the world.  "The fatigue is worth it," says our behavior day by day.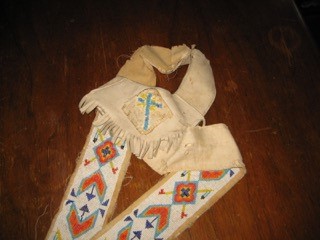 Chana Bloch is a poet new to me.  She writes here about a broken pot turned radiant by an artist joining its pieces back to a new whole, more beautiful than the original.
Best to read the poem out loud, with pauses.
Blessings on the new week.
john sj
Posted by Phyllis Cole-Dai on Feb 05, 2015 12:00 am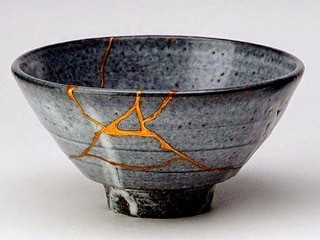 Kintsugi is the Japanese art of mending precious pottery with gold.
What's between us
often seems flexible as the webbing
between forefinger and thumb.
Seems flexible, but it's not;
what's between us
is made of clay,
like any cup on the shelf.
It shatters easily. Repair
becomes the task.
We glue the wounded edges
with tentative fingers.
Scar tissue is visible history,
the cup more precious to us
because
we saved it.
In the art of kintsugi, 
a potter repairing a broken cup
would sprinkle the resin
with powdered gold.
Sometimes the joins
are so exquisite
they say the potter
may have broken the cup
just so he could mend it.
"The Joins" by Chana Bloch. Text as published in The Southern Review (Winter 2014).
Curator's note: Kintsugi is the Japanese way of honoring and repairing broken ceramic objects with a special lacquer mixed with silver, gold or platinum. It's an embracing of the flawed or imperfect, honoring it as essential. As the artist Barbara Bloom writes, "[Japanese kintsugi artists] believe that when something's suffered damage and has a history it becomes more beautiful."
Art credit: A bowl restored the kintsugi way by Morti and Patty at the Lakeside Pottery and Ceramics Restoration Studio, image by unknown photographer.