Friday April 24 – "our desert began again to bloom"
Our guest editor for today is UDM trustee, Betsy Linehan, RSM.  Betsy turns our attention to a turning point in the Church, as the Vatican's Apostolic Visitation of Women Religious in the United States comes to a close.
Have a good weekend.
john st sj
Today's Post – Betsy Linehan, RSM
To my knowledge, Pope John Paul II never granted an audience to Sr. Theresa Kane.  As President of the Leadership Conference of Women Religious (LCWR) in 1979, she greeted the Pope at the Shrine of the Immaculate Conception in Washington.  In the most humble and respectful way possible, Theresa asked that all the ministries of the church be open to women.  Words – and even thoughts – like these were subsequently forbidden by John Paul and his Congregation of the Doctrine of the Faith (CDF).
For the LCWR and all of us whom it represents to Rome, the following 36 years have been a long desert journey. (40 years is the biblical number, but 36 real-world years is close enough!)  Three years ago the CDF initiated an "investigation" of the LCWR in language that threatened a hostile takeover or outright abolition.  Political philosopher Hannah Arendt, writing about freedom, says that "Seen from the outside…the chances that tomorrow will be like yesterday are always overwhelming."  Hope comes hard.
Last week some of us were astonished that our desert began again to bloom.  The CDF and the LCWR leadership issued a joint statement, remarkable as much for what it did not say as for what it did.  The concluding paragraph of the statement includes this summary: "The Commitment of LCWR leadership to its crucial role in service to the mission and membership of the Conference will continue to guide and strengthen LCWR's witness to the great vocation of Religious Life, to its sure foundation in Christ, and to ecclesial communion."
More remarkable still, for me the real story, was the invited private audience of the LCWR leaders with Pope Francis.  We don't know what anyone said, but he made sure there was a photograph.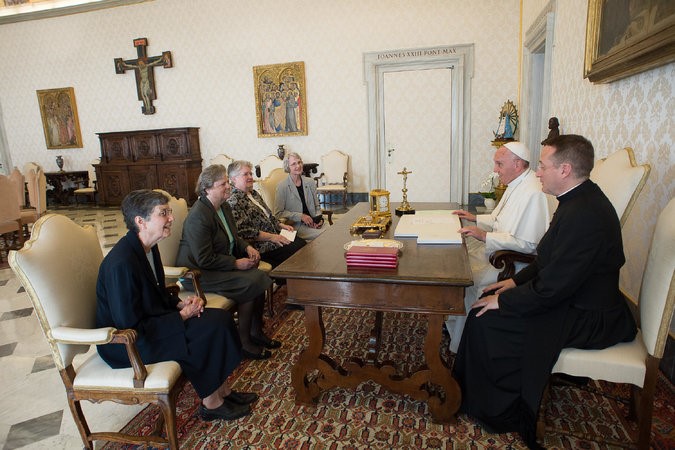 Photo source: http://www.nytimes.com/2015/04/17/us/catholic-church-ends-takeover-of-leadership-conference-of-women-religious.html