Monday April 27 – "Never Yet Been Spoken"
The last exam days for Term 2, a week for bringing 15-week-long tasks to completion, for student goodbyes to campuses, some heading off to Commencement and its powerful goodbyes.  These past several days, too, a group of students and faculty were led by University Ministry to an immersion trip in El Salvador, and another group headed off to inner city Baltimore, and still a third drove off campus c. 4:00 am in a university van heading to Fr. Cavanagh's and Professor Mary Lou Casper's annual hiking retreat in Shenandoah National Park.  I can remember one of those groups stopping by my Southwest Philadelphia Jesuit house while I lived there doing PhD work at The University of Pennsylvania, and that was in the late 1970s.  No surprise that the Appalachian hiking retreat has embedded itself in UDM spring rituals.
A friend sent me this Rilke poem the other day; as I read it, I wondered that I'd not posted any of this mystical Austrian young man's poems until now.  As you watch our students live through the end of the term and say some goodbyes that may prove only temporary, but may run deeper than that, you might find "I believe in all that has never yet been spoken" a help to imagine students at this moment of the year.
Best to read the poem out loud, with pauses.
Have a blest week.
john sj
Today's Post – "I Believe in All That Has Never Yet Been Spoken"
I believe in all that has never yet been spoken.
I want to free what waits within me
so that what no one has dared to wish for
may for once spring clear
without my contriving.
If this is arrogant, God, forgive me,
but this is what I need to say.
May what I do flow from me like a river,
no forcing and no holding back,
the way it is with children.
Then in these swelling and ebbing currents,
these deepening tides moving out, returning,
I will sing you as no one ever has,
streaming through widening channels
into the open sea.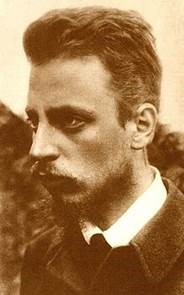 Rainer Maria Rilke     1875-1926