Friday, October 23  "not grandeur,  nor fear . . .  affection"
Pretty much everyone I know around here is slamming work these days, the heavy equipment pushing and growling as skilled workers build the university's new main entrance on 6 Mile could be a metaphor for lots of us as we hustle from task to task, honoring our commitments to mid-term grades rooted in the integrity of the challenges we open with our students, and our commitments to focus groups and colloquia along with pretty ordinary work-a-day stuff.
It would be a shame, I thought during morning prayer today, if all our honorable work allowed autumn to slip by us.  Wherever you live, in motown where the colors are breaking open these days, or Colorado, or Sweden, pause and listen 3 times today.  Want to?
john sj
p.s. the weekend might make a great time to bump that listening pauses up to 4 or 5.
Have a great weekend.
Today's Post – "Autumn's russet colors age . . ."
"For the dogwood in our yard, middle of October
West Philly c. 1976 during grad school"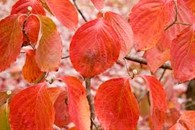 Autumn's russet colors
Age without solemnity
Earthy and simple, they linger
Linger,
Not for grandeur
Nor from fear of the dust they will become
Their affection for this place
These ripening moments
Even me the beholder
Slows the pace of changing.
Let me be won by this warmth
To slow my chosen pace
To ripen affectionately.
jstsj