Wednesday  August 24 –  "to face in the wind's teeth"
Yesterday, new freshmen arrived in the residence halls; lots of parents came, too, to help haul the stuff of residence hall life — refrigerators, sound systems, soap and toothpaste — setting up a space that will, all these family people hope,  become a home for the daunting place of teaching, research and learning that is a university.    Classes begin next Monday for undergraduates.  This week, employees work at once-a-term tasks aimed at setting the table for the more stable rhythm of regular classes — college and campus-wide meetings all over the place.  Staff & faculty helping students learn the landscape and helping new faculty and staff learn the same things.  Faculty putting finishing touches on course syllabi, early athletic practices, and strength conditioning.  All three campuses change when students bring their energy and hope and fears to a yearlong encounter with ways of thinking that will stretch them.   All of the rest of us who work here, faculty, staff and administrators, probably take a few deep breaths and square our shoulders.  "Here we go."
The poet William Carlos Williams understood life-weariness and beauty's restorative powers.  "The Maneuver" is very brief; just the thing for a hammer-slammer day packed with hustling.  Try reading it aloud once or twice, with pauses.  Breathe a little.
Have a blest day.
john sj
Today's Post:     The Manoeuvre
I saw the two starlings
coming in toward the wires
But at the last,
just before alighting, they
turned in the air together
and landed backwards!
that's what got me —
to face into the wind's teeth.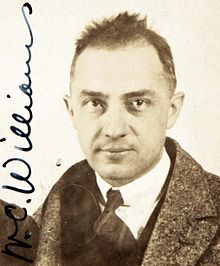 William Carlos Williams
(September 17, 1883 – March 4, 1963)
https://en.wikipedia.org/wiki/William_Carlos_Williams