Friday –  August 26 —  Freshmen Convocation, turning toward the working year
The university's formal gathering of first year students, in Calihan Hall, home of our athletic teams, locker and training rooms most days.  But this morning the hall makes a home for new freshmen, for a hour of welcome and challenge.  What do we want to tell new students?   "Welcome to two terms of fifteen weeks that will require work, and patience, and mistakes and starting over again.  Welcome to moments of tedious labor from which emerge moments to dazzle your imagination and turn plodding into dancing.  Welcome to your majors, core courses, labs and papers and grade anxiety.   All that for sure.  This is a University!  It will be worth the sweat."  So we want to tell this to our new students this morning.
But there's more.  Poet W H Auden reminds the reader that, when we pay attention and risk hope, all our labors will turn us toward "a date with Love."
I read Auden's two stanzas as a word we employees say to students as they begin and as a word students say right back to us employees as we begin.
Best to read "the chimney sweepers . . " out loud, with pauses.    Have a blest weekend.
john sj
Today's Post
The chimney sweepers
Wash their faces and forget to wash the neck;
The lighthouse keepers
Let the lamps go out and leave the ships to wreck;
The prosperous baker
Leaves the rolls in hundreds in the oven to burn;
The undertaker
Pins a small note on the coffin saying "Wait till I return,
"I've got a date with Love."
And deep-sea divers
Cut their boots off and come bubbling to the top,
And engine-drivers
Bring expresses in the tunnel to a stop;
The village rector
Dashes down the side-aisle half-way through a psalm;
The sanitary inspector
Runs off with the cover of the cesspool on his arm —
To keep his date with Love.
(From Garison Keillor http://writersalmanac.publicradio.org/index/index.php?date=2005/02/21&gt)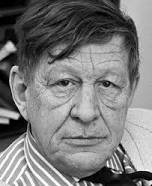 w h auden (February 1908 – September 1973)
(https://en.wikipedia.org/wiki/W._H._Auden)