Friday, September 23
"the mystery
that there is anything, anything at all,"
Weather.com predicts a Friday and Saturday of mixed clouds and sun plus a sunny Sunday.    This Friday,  the last work day of this week, opens into its weekend.  Lots of people  — not just at the University, not just in this pulsing-groaning city, in this pulsing-groaning country, in this pulsing-groaning world —  feel fatigue.   Denise Levertov's poem  speaks of refreshing mystery waiting to be noticed.
The Work Day blog hosts poets of many faiths and some who refrain from religious faith.  Denise Levertov celebrates a creator God whose attention is not easily distracted.  In this mode, she reminds me of Tagore.  Best read the poem out loud, with pauses.
Have a blest weekend.
john sj
Today's Post  "Primary Wonder"
Days pass when I forget the mystery.
Problems insoluble and problems offering
their own ignored solutions
jostle for my attention, they crowd its antechamber
along with a host of diversions, my courtiers, wearing
their colored clothes; caps and bells.
And then
once more the quiet mystery
is present to me, the throng's clamor
recedes:  the mystery
that there is anything, anything at all,
let alone cosmos, joy, memory, everything,
rather than void: and that, 0 Lord,
Creator, Hallowed one, You still,
hour by hour sustain it.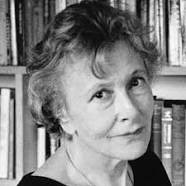 Denise Levertov
b. October 1923  d. December 1997